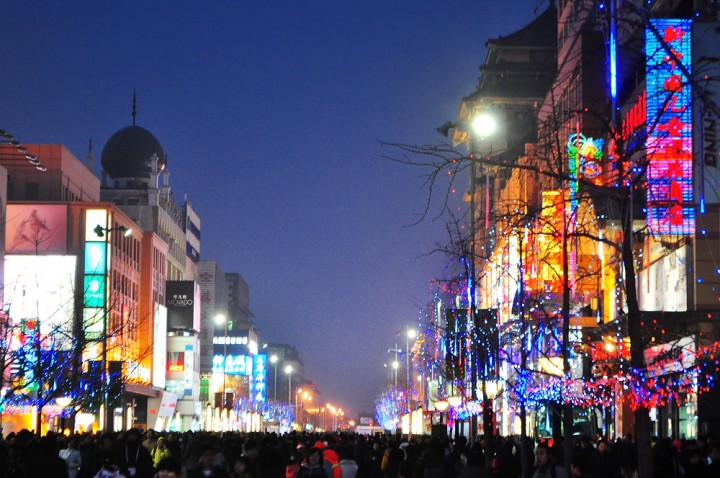 WeChat, China's most popular mobile messaging service, has inked a cooperation deal with the Wangfujing Department Store in Beijing, a major shopping center located in one of the nation's biggest tourism hubs. The deal marks the latest development in WeChat's steady foray into mobile wallet-type services.
The partnership will begin on Friday with the launch of a Valentine's Day promotion. WeChat users who scan a special QR code for the event and pay RMB 1 RMB 0.01 to the department store will be eligible to receive a small gift.
That's just the start though. Tencent and the Wangfujing Department Store have also agreed to launch in-store purchases through WeChat, in which users can scan QR codes for certain items on store shelves, and then either bring them home or have them delivered. WeChat states that it expects the new feature to be implemented within the next six months.
The partnership marks yet another step along WeChat's march towards commerce. Last year it scattered few hundred beverage vending machines throughout Beijing that accepted payments through WeChat. That was just a cute month-long experiment though, whereas a partnership with a major department store in Beijing could lead to deals with other shopping centers in China.
The move into offline payments also jabs at Alibaba, China's dominant force in traditional e-commerce. In an effort to cement its place on Chinese smartphones, it's aggressively pursued online-to-offline payments in convenience stores and movie theaters through its mobile Alipay Wallet app.
Tencent saw the biggest boon for WeChat as a tool for e-commerce over the course of Chinese New Year. During that time, WeChat launched in a campaign that let users exchange monetary gifts to friends and family through after clipping their bank accounts to the app. The scheme drew in 5 million participants, indicating that there are at least that many bank accounts bound to WeChat at the moment.
(Editing by Paul Bischoff; image via Flickr user andyenero)