WeChat users in China can now quench their thirst in-between chatting online with their buddies using new WeChat vending machines.
During a month-long experiment, 300 of these WeChat vending machines (pictured) are popping up in subway stations in parts of Beijing. They allow WeChat users to pay for the bottled drinks entirely within the chat app, making use of the mobile payments integration that popped up in WeChat's major update last month.
There's a special discount available to WeChat users who pay online for the vending machines' drinks – they get two cheap drinks wherein a soda bottle costs only RMB 1 ($0.16). The usual price in the capital can be anywhere from RMB 3 to 5 ($0.50 to $0.80). Of course, anyone can use the machines in the normal way with cash, but there won't be any discounts.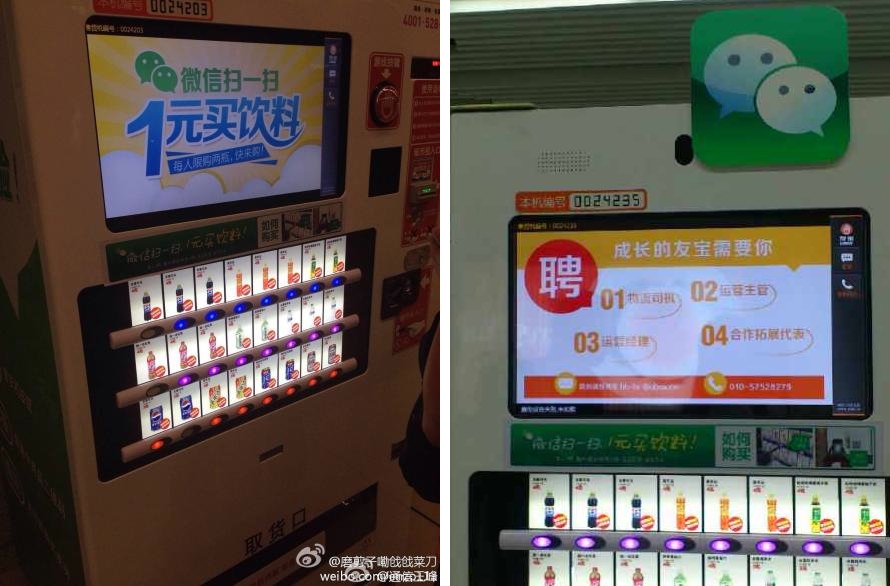 The company behind the project is Ubox, which we also saw testing out mobile payments for vending machines way back in 2011. Ubox has the nod from Tencent (HKG:0700), makers of WeChat, for its latest endeavour. But even though this fresh attempt is boosted by WeChat and its 236 million active users, it'll prove hard to persuade customers to give mobile payments a shot.
(Source: QQ Tech (article in Chinese); Images from various Sina Weibo users)
(Editing by Paul Bischoff)