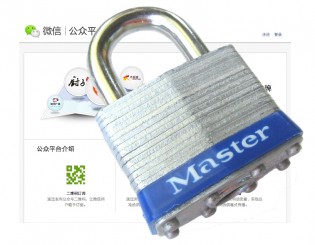 Tencent's WeChat mobile chat app is quickly becoming much more than just a chat app, and one of its most attractive features to companies, celebrities, and government organizations may be its Open Platform service, which allows users to sign up for special accounts and services that can help them promote their products to WeChat's 300 million plus users. But as some Chinese users have discovered recently — among them a Sohu IT reporter — Tencent is now attempting to verify the real identities and other information of the users behind WeChat Open Platform accounts, and if it can't it seems to be shutting them down.
A Tencent customer service representative explained the process to Sohu IT:
[When setting up an Open Platform account], please fill out the personal information truthfully, and after you submit it this information will be verified by the relevant employees. Before the verification has been completed, you can log into Open Platform, but if the information can't be verified you will get a notice within around one hour to resubmit your personal information. If you do not do this within 24 hours, you will no longer be able to use your Open Platform account.
Although there seem to be a few bugs in the system — the Sohu IT reporter claims to have signed up with real information but his account was still shut down — a real-name system for Open Platform isn't likely to ruffle feathers the way Sina Weibo's service wide real-name requirements did last year around this time. Most companies will likely be thankful for such a system, which should prevent malicious companies from posing as competitors on WeChat in order to hurt their PR efforts.
It's not clear yet whether this applies just to Open Platform users within China or whether it is the rule for everyone. But at the moment, Open Platform is mostly targeted at Chinese users anyway; there doesn't' even seem to be an English-language version of its official site.
(Sohu IT via TechWeb)