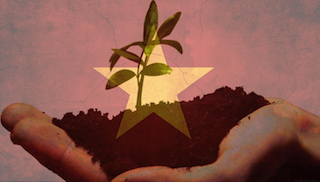 According to a recent report from the Ministry of Information Technology of Vietnam, the enterprise IT industry has the potential to rack in over $1 billion a year. The enterprise IT industry sector such services as outsourcing, maintenance, consulting, and corporate IT services.
From some of my sources, the outsourcing industry may account for a quarter or up to half of that number, but the Ministry's report also indicates that the potential for domestic enterprise is the real key for Vietnam's growth here. In the past five years, revenues in consulting services and integrated solutions systems have grown up to 35 percent. Ictnews even speculates that this market could reach into the billions very soon.
Okay, the nerdiness of these numbers aside, what does it mean for the overall tech industry in Vietnam? Not only is this a big opportunity for startups to jump in on, but it's also good news for the future of many industries in Vietnam. So despite obviously questionable new policies that are coming out recently, the Vietnamese government and industries realize the huge potential benefit that enterprise IT and general IT can bring for the nation. It's no wonder major companies like Samsung and Intel are getting special treatment and puttin in huge investment.
The problem for many startups, on the other hand, has been the minefield of legal limitations and vagaries. Add to this a mistrust of big business among smaller startups. But if the Ministry of Information Technology is correct, as the market for enterprise IT grows, it's going to grow the pot of opportunities and needs of small, medium, and large businesses who will be competing so as to not fall behind each other. And that's exactly where startups can jump in.
(Editing by Steven Millward)