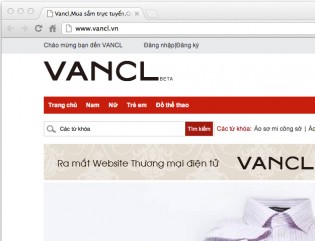 Two weeks ago, Vancl, China's biggest clothing specialist e-commerce site, was reportedly cutting staff. But now the Chinese media (via TechWeb) are reporting that Vancl is marching towards overseas markets – more specifically, Vietnam, with the launch of Vancl.vn.
According to Vancl's data, Vietnam looks like a viable choice. Vancl, which makes its own-brand clothes, has had an English e-commerce site since 2010. And through that site, Vancl saw growth mainly from Southeast Asia and Russia, with Vietnam contributing eight percent of its total overseas sales, growing at 100 percent annually in the second half of 2012 compared to 2011. Talks with Vietnamese working partners went smoothly, making Vietnam an easy choice of destination for the company's first specific country expansion.
Southeast Asian countries have been mentioned several times in recent months as the internet industry starts to mature in the region (see stats for Indonesia, Vietnam, and Thailand internet user growth below). Some might recall that a Japanese gaming company acquired a studio in Vietnam earlier this year. Cyberagent Ventures also has an office at Vietnam.
More recently, we learned that Tencent's messaging app WeChat is doing pretty well in Southeast Asia, particularly Thailand and Indonesia. Local search leader Baidu has a research center in Singapore but unfortunately hasn't had a smooth journey in Vietnam so far with its quiet launch of a few social sites.
It's interesting to note that Tencent's effort to push WeChat in Vietnam didn't show any marks of being from Tencent or from China, which might have made the difference in escaping the kind of anti-China backlash that came Baidu's way during the same politically tense period between China and Vietnam.
It's safe to say that Vietnam has captured the eyes of Japanese and Chinese companies lately and we can expect more East Asian tech companies to travel down to explore Southeast Asia. I'm betting on China's biggest e-tailers, Alibaba (with Taobao probably), to be making the move soon. There are lots more high-potential countries in Southeast Asia, including Thailand and Indonesia.
This is a trend I think, and it's interesting to see Chinese web companies mature to the point that they feel ready to do some careful regional expansion. Fun times ahead.