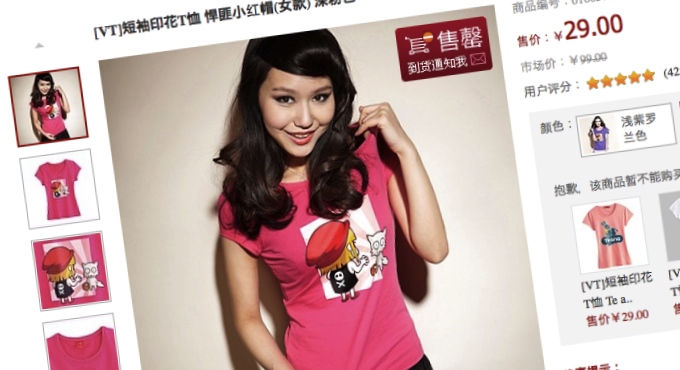 Vancl is China's top own-brand e-commerce site, selling its own cheap yet cheerful clothing items in a manner similar to Japan's Uniqlo. Except Vancl does it only online. Some of its clothes retail, in a promotion going on at the moment, for as little as 29 RMB – that's $4.60. But to get prices so low, many of Vancl's clothing items are not made in China, but in Bangladesh.
Caused by rising labor costs in China as life in the nation's manufacturing hubs gets a lot pricier, Vancl's deputy GM Liu Hao has said – to the Chinese blog IT Times – that the company has begun producing some of its own-brand clothes in Bangladesh since the end of last year. But Vancl is being cagey about the extent of the manufacturing move, and many Vancl T-shirts I've inspected do not show any country of origin. It's not clear what percentage of the company's fashion lines are made in the South Asian nation.
Vancl – currently China's seventh-largest B2C e-commerce site by market share – is not alone in looking to Bangladesh. Swedish clothing retailer H&M has 25 percent of its items made in Bangladesh – and it's a figure the company is keen to increase. On the plus side, H&M sees lower labor costs; but there are numerous challenges in the country, such as political unrest and poor infrastructure. It is thought that 80 percent of exports from Bangladesh relate to fashion and textiles.
30% Cheaper Than China
The IT Daily was told by the chairman of the Nantong Printing and Dyeing company that production costs in Bangladesh are now "30 percent lower than domestically" in China's textiles industry. And so that's causing a gradual shift towards more clothing items being outsourced to Bangladesh by Chinese companies themselves. At first it was just outsourcing T-shirts and shirts. But, said the same executive, the manufacturing of more and more items, like winter jackets and sweaters, will be shifted to Bangladesh by 2013 by his company and many other rivals.
Just as global manufacturing evolved away from previous hubs, such as Taiwan, it's inevitable that rising costs will see major brands – including Chinese ones – looking to other centers of industry. So it's not just Vancl's move toward Bangladesh; there's also Lenovo looking at Brazil, and Foxconn weighing up Indonesia.
[UPDATED one day later: Added in name of the Vancl source]