New statistics for China's B2C e-commerce sector in 2012 Q2 show that the market leader, Tmall, has extended its lead even further in this two-horse race. Second-place 360Buy has also grown slightly in terms of market share. The biggest shift between the new stats and the end of 2011 (see the two pie charts below for comparison) is that the top five in the market now dominate more strongly, accounting for over 66 percent market share in the newest stats compared to just 59 percent at the end of last year. That's some sizable consolidation. The entire sector took in 98.84 billion RMB (US$15.65 billion) in transactions in the most recent quarter alone.
And so a lot of names now familiar to Chinese online consumers have expanded their market share. Tmall went up from 39.9 percent to 41.5 percent share in the time between 2011 Q4 and 2012 Q2. Huge gains, too, for Chinese web giant Tencent (HKG:0700), which is finally succeeding in its e-commerce efforts, coming from almost nowhere to grab (an albeit distant) third place with its fairly new QQ Buy site.
Lots of other specialist e-tailers have grown healthily, with Suning, Amazon (NASDAQ:AMZN), Dangdang (NYSE:DANG), Vancl, Coo8, and Yihaodian all having expanded their market share slightly. Here are the most recent stats, which we've taken the liberty of putting into English-language charts: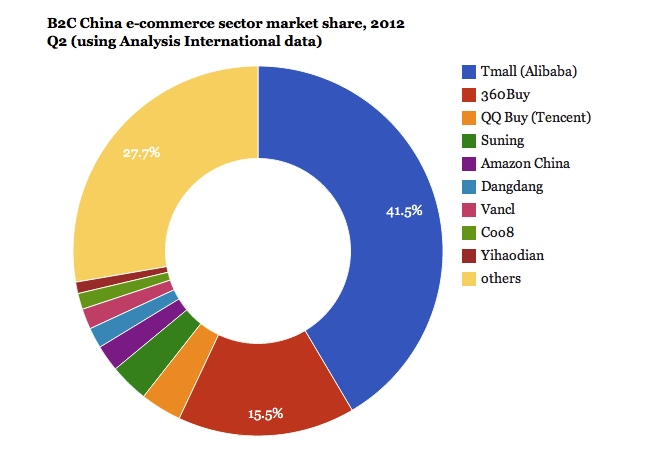 And now compare those new figures with the situation (data also from Analysis International) from six months ago: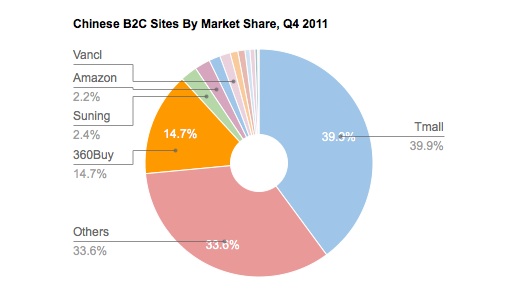 As for the entire B2C online retailing sector in China, it grew to take in 98.84 billion RMB (US$15.65 billion) in transactions in 2012 Q2 alone, which represented growth of 21 percent from the previous quarter, and up 82 percent year-on-year.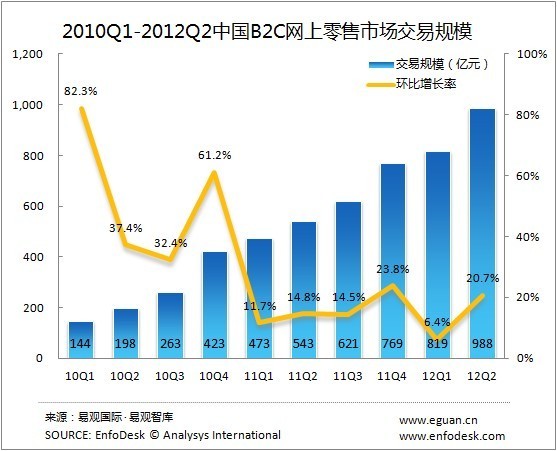 [Sources: Analysis International @ Eguan (1) and (2) (articles in Chinese)]