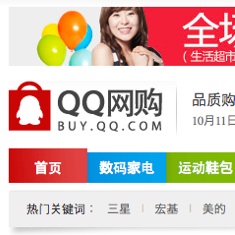 Bang on schedule, Tencent's (HKG:0700) major play in the B2C e-commerce marketplace opened this morning. Called QQ Buy, it's the internet giant's push against the dominance of Alibaba (HKG:1688), especially its brand-oriented TMall site.
The new Buy.qq.com will have a similar focus on well-known brands and labels, and also apes TMall's move to allow rival, specialist e-commerce sites to open up virtual storefronts. We've already confirmed with Tencent that OKBuy, WalMart-backed YiHaoDian, 51Buy, V+, Kela, and TianTian are all on-board. It's an attempt by the two major players to be the Chinese consumer's choice of one-stop online shopping.
QQ Buy is making a gradual roll-out across the country, and currently it can only ship to customers located in one of China's 31 provinces and municipalities, Guangdong, which is home to Shenzhen, China's true economic powerhouse. But from today anyone can browse the site – but most of the country can't actually get any item shipped. I wonder if that'll cause some initial frustration.
Tencent's new platform is bad news for the struggling Dangdang (NYSE:DANG), and the upstart 360Buy, as it has a comprehensive 3C (computers, communications, consumer) product section.
Tencent already has its own C2C e-commerce site, Paipai, which it will maintain as a rival to Alibaba's Taobao.
You might like to check out the nice-looking tribute page to Steve Jobs at QQ Buy, from which you can buy anything from Apple's current line-up, and browse a timeline of Steve's past devices.