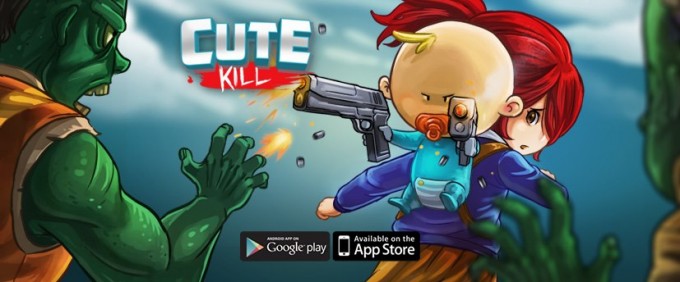 Yesterday Indonesian game developer Touchten officially launched its first new game title of the year, called Cute Kill. Although there is no shortage of zombie apocalypse-themed games out there, this particular game is unique on its own as it lets you kill those horrible zombies with a cute baby character being piggybacked by his sister.
Cute Kill is a shooting game where users get to play both the main characters, Sis and Baby, who are running away from the zombies and shooting at them at the same time. As the level progresses, there will be obstacles and traps in front of Sis to make the game more challenging. In the process, users can to upgrade their weapons and use other power-ups as well.
The game's project manager, Frederick Tirta, was inspired by the movie Zombieland where people were shooting at zombies behind them. Then an idea popped up where a baby would be carried on someone's back, and shoot enemies that are sneaking up from behind. Interestingly, the team almost shelved this game due to a hiatus during the game development. Now that it's ready, Anton Soeharyo, the CEO of Touchten Games, is excited about the new game:
This must be the cutest title we have so far, and our team worked hard to implement and polish it to produce high quality gameplay. We can't wait for gamers to enjoy Cute Kill!
The Cute Kill game is available now on iOS and is scheduled to be released on Android by the end of this month. The team is working with several entities to promote this game, including an attempt to get it featured on Google Play. Touchten will keep on updating the game and will welcome feedback, especially comments posted on the TouchArcade forum.
On a related note, Touchten told us that localized versions of Sky Beauty from its flagship game Infinite Sky, have hit a delay on its release for the Chinese and Japanese markets. Anton says that the Chinese version of the game should be available in the Chinese Apple App Store by the end of this month, while its Android version should be available in China's various Android app stores by the end of February. There's no date specified yet for the Japanese release.
iOS users can download Cute Kill for iOS here for $0.99.