Leaving Tokobagus, Indonesia's largest online classified site, didn't come easy for co-founder Remco Lupker. It was a tough decision for him. He adores the company like his own baby. He told Tech in Asia that he had a lot of fun ramping up Tokobagus from zero to the hero it is today. When MIH's investment came in, he believed it was the perfect time for him to hand over Tokobagus to someone with much more experience operating a big company. That person is Michal Klar, who continues to run Tokobagus well.
Remco, for his part, moved on to other ventures. "Tokobagus can hardly be considered a startup anymore," Remco said. "As [it] developed, it slowly required other management skills which were not so much in my field of interest."
He added:
Tokobagus brought me everything I could have hoped for and so much more, I had a great ride with a great team, which I will cherish forever. Also, the Tokobagus experience taught me so much and allowed me to meet a lot of interesting people and do interesting stuff. I mean, how often do you get the opportunity to do multiple big nationwide TV campaigns?
The first thing Remco did after he exited was to go back home to Holland with his Indonesian wife to see his friends and family. The entire holiday lasted eight months. Afterwards, Remco started a new venture in Indonesia. This time, he is running a video ad network company, Ambient Digital Indonesia.
Ambient Indonesia is a joint-venture between Ambient Digital Group (headquartered in Vietnam) and Remco, himself. It's established as a local entity. Unlike other ad networks that mainly offer banner ads fighting for limited inventory spaces, Ambient helps publishers create a new video ad inventory slot at the bottom corner of their web pages.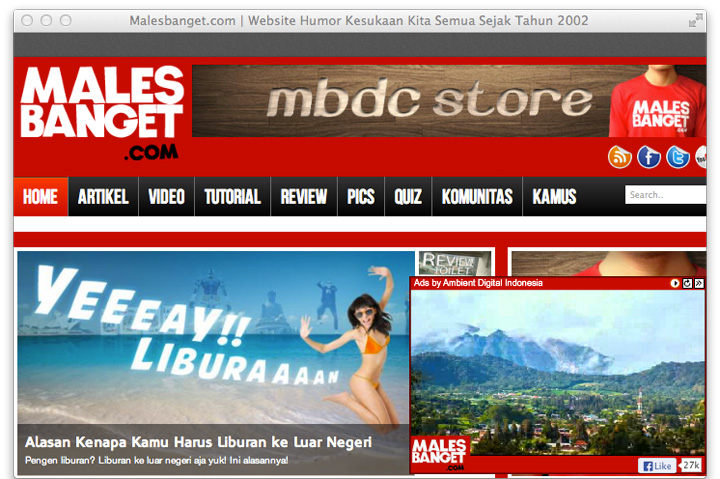 During his time in Vietnam, Remco came to understand more about Ambient Digital Group and its fast growth in the country. The company also did well in the Philippines. So he was convinced that Ambient's advertising approach could work well in Indonesia. "Ambient did a superb job in Vietnam and the Philippines so imagine what we can do in a market with the size and growth potential of Indonesia," he remarked.
Remco believes the product is unique and is already a proven business model. Plus, in a market like Indonesia, where TV advertising still commands a huge budget, Remco believes Ambient could bring TV advertisers to the internet, thus capturing a slice of that budget.
In the short term, Remco's personal target is to make Ambient Indonesia the local market leader within six to twelve months. Despite being first in Indonesia, he expects copycats to emerge very soon. For the long term, Ambient will look more into product development, banking on the fact that there could be more room for innovation in Indonesia's digital advertising space.
Besides running Ambient Digital Indonesia, Remco also made an investment in a local fashion brand that designs, manufactures, and sells shoes. Unfortunately, he wasn't able to disclose the name of the brand yet. He also said that he might make one or two more investments in other startups but will leave it to fate to see what good opportunities cross his path. For his take on the Indonesian startup scene, he said that Indonesia needs sustainable companies who aren't looking for a quick exit: "A sustainable market needs sustainable companies."