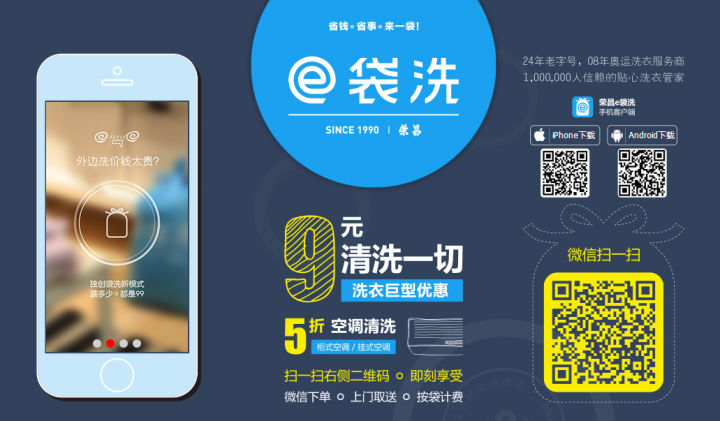 China's biggest internet company Tencent (HKG:0700) has just announced an RMB 20 million (US$3.2 million) series A seed round of funding into an app-connected laundry service made by laundromat chain Rongchang, according to 36kr.
Despite the relatively small round compared to Tencent's other recent investments – like US$736 million into online classifieds site 58.com – Rongchang is no startup. The laundry chain has been a staple franchise in China for several years.
The online service, dubbed Edaixi, currently gets about 1,000 orders per day, and plans to reach 10,000 per day within one year. Edaixi's main service charges a flat RMB 99 (US$16) rate per each of its custom laundry bags, whereas most of its competitors only charge per piece of clothing. It will also clean individual pieces of clothing, shoes, furniture, air conditioners, and handbags.
Submitting an order from Edaixi's website, native app, or WeChat service account will dispatch a courier to come pick up the customer's laundry and bring it back clean and fresh within 72 hours. With aims of being a sort of Uber for laundry, Edaixi plans to create distribution units so a laundry courier can always pick up a customer's laundry within 48 minutes. For now, the service is only available in Beijing.
See: WeChat first: a new frontier in China beyond Android and iOS
Tencent's investment will be used to expand Edaixi's coverage area both in Beijing and additional cities. Rongchang founder Zhang Rongyao told 36kr he accepted Tencent's investment because he believes the company has a deep understanding of the online-to-offline (O2O) business model, and it's more concerned with making good products and services rather than a return on its investment.
This recent investment comes just days after competitor 24tidy raised a funding round worth "tens of millions of RMB." Other online laundry services in China include Ganxike, Xiyigi, and WeWash.
(Source: 36kr)