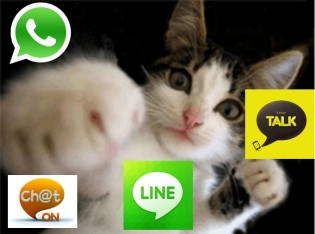 Today, Indonesia's biggest telco Telkomsel, together with Samsung Indonesia, launched a BBM-like package deal for popular third-party chat apps called 'Chat and Share'. The package deal would make online messaging costs separate from regular data plans in Indonesia, which is great for serious chat app fans. The new package deal is available only for Samsung Android devices.
The 'Chat and Share' package deal offers integration with Facebook and Twitter, and allows 500MB of monthly [1] data for third-party chat apps like Line, KakaoTalk, WhatsApp, and ChatOn. This is similar to the 'Blackberry Lifestyle' deal Telkomsel offers Blackberry users, which gives the same social media integration and also unlimited usage of BBM. The big difference lies in the price, as 'Chat and Share' is a lowly IDR 20,000 ($2) per month whereas the 'Blackberry Lifestyle' costs more than twice as much, at IDR 45,000 ($4.70) for the first month of usage [2].
Detik cites Ririn Windaryani, the marketing VP of Telkomsel Group today as saying that Telkomsel has around 5.1 million registered Blackberry customers at the moment. She also acknowledged the rising popularity of Android, as it now has two million Android customers, a number that has soared 200 percent over the past year. The VP of Samsung Indonesia explained via Detik that 40 percent of all Indonesian smartphones use Android, and four out of five of those are Samsung devices.
Beginning of the End for RIM?
It was just yesterday that we noted that RIM would have cause to worry if chat apps receive BBM-like package deals. And that has happened already. The biggest telco in the country seems to be leading that movement by offering two package deals now for unlimited chat apps usage (the other is here and was launched back in July). These deals will be strong challengers to Blackberry's exclusive BBM services.
So what are the reasons customers might jump from Blackberry to Samsung or other Android smartphones? First, users can now get the free calling service that's also part of KakaoTalk or Line on Android, which is unavailable on Blackberry. Second, Android has a bigger array of games and other fun apps, all more attractive to young Indonesian users.
This might only be the beginning of the upheaval for RIM's BlackBerry in the country, since the other Indonesian operators will likely consider offering similar deals as well in the future. Blackberry 10 may well be RIM's final chance to save itself.
[Via Chip.co.id, original image: images.wikia.com]