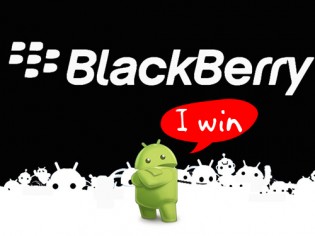 Kompas wrote up an interesting interview with three big gadget vendors during the annual Indonesian IT exhibition, Indocomtech, which finished yesterday after running for a week. The verdict: Android phones are becoming more popular compared to Blackberry devices this year – and that's proved by Android winning the event's sales race.
First, the Indonesian gadget vendor Erafone said that out of 1,200 gadgets sold at Indocomtech up to Saturday, 800 of them were Android devices, with Blackberrys making up the remaining 400. A second vendor, Global Teleshop, said that during this year's event, the ratio/percentage of Android and Blackberry devices sold was 60:40, compared to last year when the sales numbers were equal. The third vendor is OkeShop, which said that Blackberry has been dethroned by Samsung for the number one position as the most popular mobile gadget in terms of sales at the event. The rising popularity of Samsung devices was also pointed out by Erafone. And so that's a 3-0 win for Android among those retailers.
But of course these event-specific numbers still do show that Blackberry remains quite popular in Indonesia. And we need to consider that many gadget brands are using the Android platform, whereas the Blackberry platform appears only on RIM-made hardware. But Indonesia's geeks – the kind that would attend Indocomtech – are clearly starting to be more open to trying out the Android platform in the country.
SOS For Blackberry?
The danger might lie in the future, when people who have tried out both Blackberry and Android devices will come to the conclusion that Android, having more games and more fun entertainment apps, is simply a better platform for them. And the blinding progress of chat apps in the country, such as WeChat and KakaoTalk, points to BBM becoming overshadowed too.
RIM seriously needs to worry about one of its biggest markets (if not the biggest). Especially if one of those chat apps can convince mobile telcos to start selling BBM-like packages whereby online messaging is separate from your mobile data allowance. Now THAT would be the beginning of the end for RIM, unless the long-awaited Blackberry 10 can turn a lot of heads – and change a lot of minds. Because right now, Android is looking like the most appealing mobile OS of all for Indonesia's most clued-up gadget fans.
[Image source: freshtechweb.com]