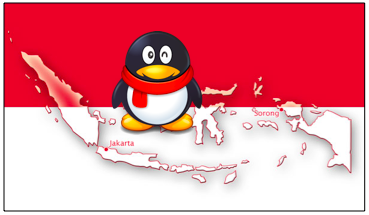 Tencent's has made a huge step toward its Indonesia expansion program as the company just announced its partnership with Indonesian media conglomerate PT. Global Mediacom yesterday. Hary Tanoesoedibjo, the CEO of Global Mediacom subsidiary MNC Media, explained:
MNC Media and Tencent (HKG:0700) shall collaborate to be a major new media player in the area of online communication and online games industry in Indonesia, a promising market for internet business due to its large population and young age demographics. We look forward to cementing closer working relationships in the future.
It is no secret that Global Mediacom has gigantic media power under its disposal, spanning from TV channels, newspapers, online media, and even up to entertainment companies. This move by Tencent will definitely increase its brand visibility significantly in the country. It is also not the first time a Chinese tech company linked up with one of Hary's companies, as Chinese entertainment and news media provider Linktone acquired online news portal Okezone Tencent's WeChat localization effort in the country. WeChat's features alone will likely appeal to the typically more social Indonesian demographic, getting an early jump on other rising chat apps such as Line and KakaoTalk. Visibility should no longer be the issue for WeChat, but there is still another stumbling block to be tackled because the app is still unavailable on Indonesia's favorite smartphone platform Blackberry.
[Source: DailySocial]