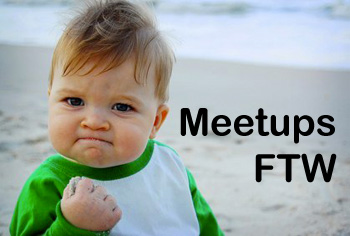 Hey folks! Today, we're officially announcing TechinAsia Meetups 2013. What is that, you ask?
Well, it's a series of meet-up sessions that connects internet industry stakeholders – entrepreneurs, investors, innovators – by bringing them together in a single spot each month. In 2013, we'll hold Meetups in cities across Southeast Asia including Bangkok, Jakarta, Bandung, Ho Chi Minh, and Singapore.
At each session, we will invite an entrepreneur or industry expert to share insights, trends, and stories. We hope you can take away some awesome advice from our speakers and also build better relationships to catalyze your business growth in the future through discussion and networking with our experts and your fellow attendees.
All in all, we want to play our part in building and contributing to the startup ecosystem in this region. Our first one ever, the January Meetup, will be in Jakarta. Do check out our new TechinAsia Meetup site for lots more details, and join us if you can. For entrepreneurs who want to pitch their ideas at a Meetup session, feel free to contact us at events[at]techinasia[dot]com. We'll see you there!
Thank you, sponsors:
---
Corporate sponsors
---
---
VC sponsors
---
---
Startup sponsors
---