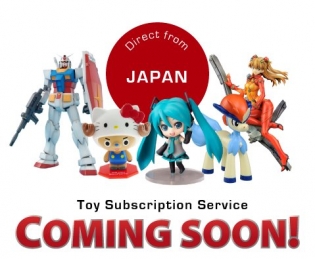 Sugo Toys Japan is a new service that allows users to buy a new toy from Japan each month. It capitalizes on the popularity of Japanese manga, anime, and video games which are popular with fans overseas. The site, located at sugotoysjapan.com, is scheduled to launch in August (currently just a teaser page).
The company that runs the service, SugoLog, is made up of four staff members: Masaru Nakajima is the CEO, and there is another cofounder, a Dominican web designer, and a Vietnamese system engineer. Masaru tells us that they were inspired by Candy Japan's subscription model. Our readers may remember we featured that very impressive service a few months back.
So far the company has not set a monthly subscription price but they hope to make it affordable for all users. This seems like it will be a little bit difficult, since the Japanese yen is so high and selling to overseas users at current exchange rates may be tricky.
But the company is keen on spreading 'Cool Japan' culture all over the world. Sugolog is normally a social media marketing company and it has been using Facebook actively to build a fan base by pushing out Japan-related news over the past few months. I'm told that the 25,000+ fans that they currently have were accumulated both through organic growth as well as advertising. They will then use this fan base as a way to help monetize its toys subscription service.
Masaru tells me that they have done some market research and they are confident that demand for these sort of toys are high. They plan to cater to English-speaking consumers first with accommodation for other languages coming in the second phase of their plan. With regards to the Chinese market, there isn't any specific plan yet since they cannot use Facebook, Twitter, or Google as marketing tools in that country.
The company has negotiated an agreement with a toys distributor and are in talks with a toy maker, which is promising. It will be interesting to see how this service is received by fans and whether or not this can be another successful example of a subscription model business.