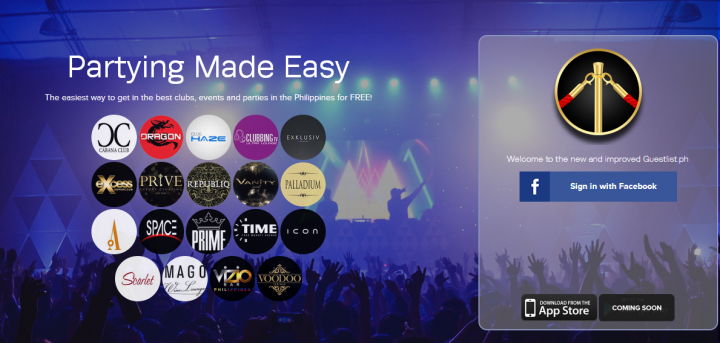 A Philippine social night life app Guestlist  is proving that there's a technology gap to be bridged when it comes to clubbing. The app allows people to have their name on a club's guest list with less hassle, taking away the burdensome process of falling in line or hunting for someone who can let the party-goers get into a club.
To get entry, one has to pay for an entrance fee, or, to waive the fee, find other means to be on the club's guest list. Either way, it means clubbing has to be a well-planned affair, and this is what Guestlist is trying to change.
Through its web and mobile app, users can browse the events of its different partner clubs and simply hit the join button to the selected club or event one wants to go. Immediately, the user is part of the guest list.
These guest lists are automatically sent to the clubs by 9 in the evening, and users simply have to present their identification cards for verification.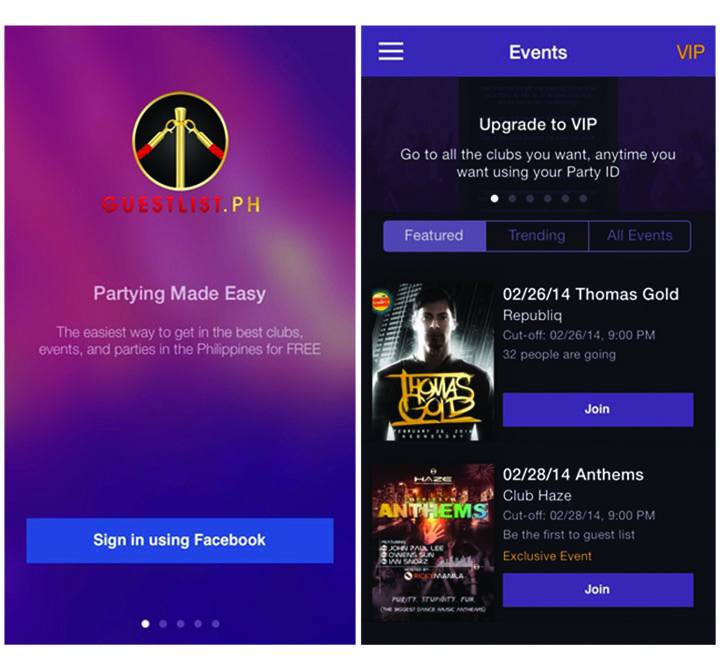 Party all you want
But on top of this, Guestlist founder Ron Baetiong also realized that the Guestlist app itself can be every party goers' ID to the clubs. So it released an update just recently to its mobile app with an in-app purchase for a VIP membership.
This gives users unlimited and automatic access to any of Guestlist's partner clubs, without a screening process each time. Baetiong says this can be ideal for club hoppers or frequent party goers.
Meanwhile, non-paying users will only get to browse through the clubs' events and manually join through the app. The membership pass can be purchased for periods of one, three, six, or 12 months at Php 499 (US$11), Php 1,499 (US$34), Php 2,999 (US$67), and Php 5,999 (US$134), respectively. Baetiong says:
Through this, I hope to impact the people that use the app, and build harmonious relationships with the clubs by helping them get traffic. It's only with the clubs that I can attract users.
Automating the list
Baetiong says the idea started back in 2009 when he was trying to come up with a business idea for his entrepreneurship course in college. He says:
It was the time when Facebook became huge in the Philippines, and I wanted to have a Facebook for nightlife. I also figured that I want to have a social impact on people who love to party at night and have fun, like me.

From the point of view of the user, all they want to do is just have fun. When you're experiencing long lines, it diminishes the fun.
However starting the web app brought many challenges for Baetiong. Initially, he had to manually type in the guest list names and send them to each club. He also had to re-build the website twice. While he is not tech savvy, venturing down this path has made him more aware.
After many revamps, the site finally relaunched in March 2013. And in July, it successfully received mentorship and seed funding from Philippine incubator Kickstart Ventures and Proud Cloud.
By the end of 2013 – in only a span of nine months – it already gained 18,000 registered users and has now grown to 23,000 as of this month. From this number, 75 percent of its users are in the 18 to 24 age bracket.
Baetiong says that around 500 people use Guestlist on a normal weekend and 60 percent of users have used the app in the last three months.
But more than merely putting people into clubs' guest lists, it's also set to launch more features like table reservations and bulk food orders in April for other venues such as restaurants.
Clubs in its database are mostly situated in the metro area, with 17 in total. It's planning to expand to other cities such as Cebu, Boracay and Baguio. It also hopes to expand to other Southeast Asian countries such as Thailand and Indonesia in the near future.
Guestlist is available as a free download on iOS. It's set to launch its Android app soon.
(Editing by Terence Lee)