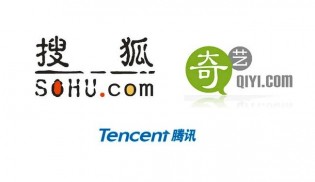 Having the rights to stream the most popular shows is hugely important to any streaming video site in China. Unfortunately, getting those rights is expensive, especially if you're one of the smaller players. And after the Youku-Tudou merger, everyone else is a smaller player. Rumor has it that Sohu, Tencent, and Qiyi (which belongs to Baidu) will be teaming up to buy video rights together.
The three former competitors won't actually be merging, it seems, just pooling their money to buy video rights so that they can collectively afford to compete with Youkudou Tuodouku Youku Tudou. There's not much more detail than that, and this story should still be considered a rumor for now, but it likely won't be for long: according to Sina Tech's sources, the companies will be holding a press conference to announce this news tomorrow.
And it shouldn't really come as a surprise to anyone who has been watching the Chinese internet video market. This is sink or swim time for many of the smaller players; it's to be expected that some of them would rather work with their former competitors and keep competing than die off independently.
In any event, we'll have more on this news tomorrow, assuming Sina's sources are correct and it does turn out to be accurate.
[via Sina Tech]