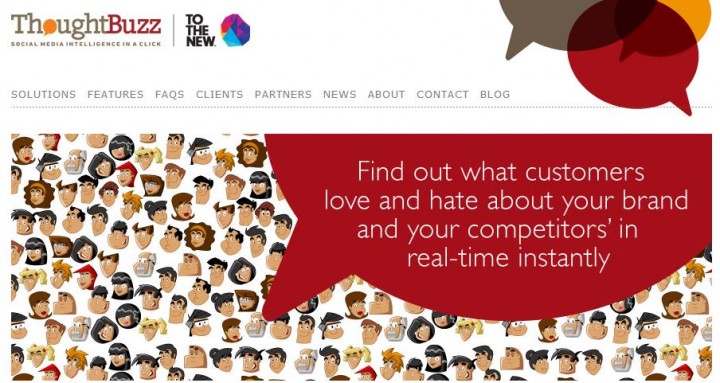 In 2012, Singapore-based startup ThoughtBuzz expanded to the Philippines. And following its September acquisition by India-based digital services company To The New, it's bringing new and improved analytics services to Philippine companies.
The heart of the startup's offering is ThoughtBuzz Omnio, which collects information on social media sites such as Facebook, Twitter and Instagram, as well as blogs, forums, review sites and Q&A sites. It gathers insights and feedback from consumers and potential customers, which are then converted into understandable digest graphs.
Thoughtbuzz's social media analytics aims to help companies and brands know what people are saying not only about their brands but also about the specific industry they are in. The goal here is to equip a company with enough knowledge to give them the ability to make better decisions. ThoughtBuzz Philippines' general manager Rianna Roces-Trinidad says:
It's about harnessing the power of social media, identifying the insights that are relevant and actionable, and using them to help a client attain their business goals
Broader analysis
Trinidad says the expertise of To The New gives ThoughtBuzz an improved platform. Enhancements under the hood paved way for better speeds and technology, which include ticketing systems and multi-level user access controls to ensure collaboration and accountability. It now also allows the user to manage multiple social media profiles. She adds:
We also want to be able to talk to clients and offer a full spectrum of products and services with flexible packages to suit their individual needs. We've learned that not all organizations are structured in a way that allows them to optimize such a powerful tool so we offer our own analytics services to complement the subscription.
These different analysis projects aim to help brands quantify, measure and predict their social return of investment.
Tapping on the social media population
With its status as the social networking capital of the world, Philippines is considered an important market for ThoughtBuzz. We are Social just released a report on internet and social trends in the Asia Pacific region which shows that the Philippines has 36 percent internet penetration and 32 percent active Facebook users among its total population. Trinidad says:
This represents a huge opportunity for brands to identify their consumers, gain an intimate understanding of them, and create meaningful relationships with them. The Philippines is ripe for social media marketing and engagement to become a major channel in every marketer's mix. It's really about knowledge in its most candid form.
Currently, the majority of ThoughtBuzz's client-base in the Philippines hails from the pharmaceutical, telecommunications, and advertising industries. But while most of its clients in the country are multinational companies, it's also planning to roll-out a product offering for small-to-medium businesses.
(Editing by Josh Horwitz)