Update on January 15, 5pm: Added more facts and figures about the company. The article also stated that the website lists 10,000 activities, which is incorrect and has been amended.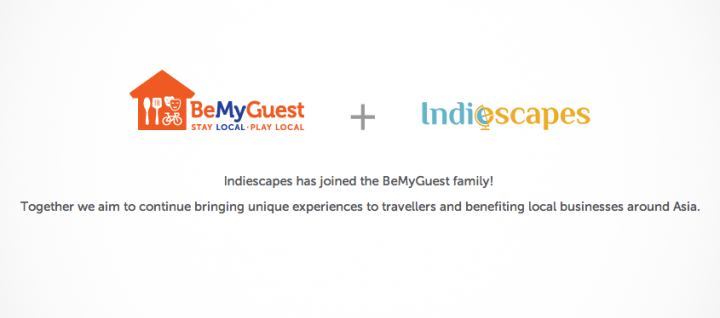 BeMyGuest, an up-and-coming online marketplace from Singapore that offers off-the-beaten-path travel experiences, today announced its acquisition of Indiescapes, a competitor and fellow Singapore-based company.
The acquisition means Indiescapes' inventory, which numbers in the hundreds, will transfer over to BeMyGuest, and its brand will be absorbed by the acquirer.
Indiescapes is founded by Heidi Shum and Min Seetoh, who have banking, management, and consulting backgrounds.
"This acquisition is a positive progression for our existing customers… joining BeMyGuest will provide our clients with exposure to a wider network and provide a significant increase in bookings," she says. Shum or Seetoh have not indicated whether or not they themselves will join BeMyGuest.
Both startups emerged in the past two years as part of a worldwide boom in niche travel marketplaces.
BeMyGuest, a free-to-list platform, expanded at an accelerated pace last year. It has listed around 1,500 tours and activities on the site with thousands more waiting to be uploaded, secured $402,000 in angel funding from unspecified investors, and received more money from Tidesquare, one of South Korea's largest online travel agencies. It has made $500,000 in bookings so far, with the startup collecting a variable percentage from each transaction.
The company also brought on board Blanca Menchaca, the former global head of online marketing at travel search site Wego.com, as its chief marketing officer. That company's founder, Clement Wong, is an experienced travel industry analyst. The team current stands at 15 strong, including full-timers and founder.
BeMyGuest will focus on expanding into South Korea this year, while its investor Tidesquare will attempt to deepen its footprint in Southeast Asia.
The startup, which focuses on trips in Asia, scours cities in the region for individuals and businesses who can offer travelers a slice of life as a local, or offer something not found in generic travel packages.
BeMyGuest also gives over 250 suppliers a free content management system to tailor their online presence. Travelers, meanwhile, pay a small fee to the company for every booking.
Some of the company's Asia-focused competitors include: WithLocals, myRealTrip, Triip.me, and Voyagin.
(Edited by Josh Horwitz)