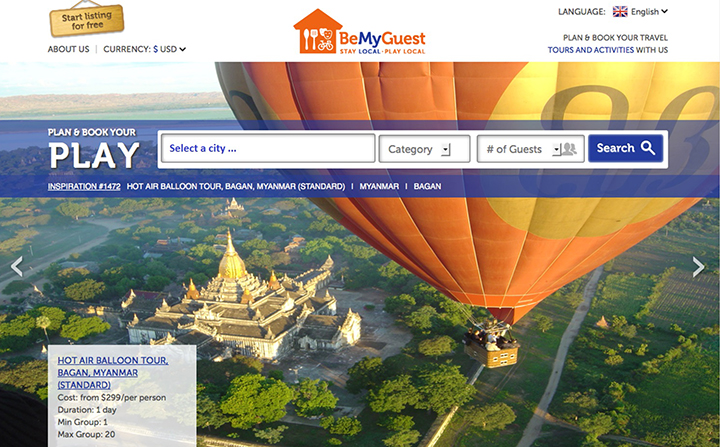 If you want to fly in a fighter jet in Germany, ride a hotair balloon in Myanmar, or swim with sharks in the Philippines, BeMyGuest has you covered.
The website, which promotes niche travel experiences around Asia, now has around 10,000 tours and activities in the region since it launched in beta in October last year. The Singapore-based startup has also secured S$500,000 ($402,000) in funding from unspecified angel investors.
BeMyGuest was started by Clement Wong, who was inspired to start the company while on a business trip in Africa. He said:
I wanted to explore Kenya further off the beaten track, but I soon realized that my effort to connect with true local life was not so easy, with much of the money I paid going to intermediaries which doesn't help to elevate tourism responsibly in local communities.
Tour guides can list for free on the platform using a content management system. Their offerings will be promoted beyond the website, through social media, partner websites like Deals.sg, and offline trade shows. Travelers will pay a small fee to BeMyGuest for every booking they make.
The team is led by a group of senior executives in the travel industry. Clement once served in research and marketing roles at Euromonitor International, Travelport, and PhoCusWright.
Blanca Menchaca, former global head of online marketing at travel search site Wego.com, has joined BeMyGuest as Chief Marketing Officer.
Their knowledge and networks in the industry could give them an edge in a trending niche area that is growing increasingly competitive. Platforms like Vayable, Voyagin, Sidetour, and Singapore-based Indiescapes all cater to a specific sort of traveler: those who dislike commercialized tours and are seeking more authentic experiences that are in-tune with the locals. In Asia alone, there are at least ten sites that offer such crowdsourced tours.
For a startup to dominate this field, it'll need to gather the largest inventory across Asia quickly, and market the hell out of it. Then network effects will take over. On these counts, BeMyGuest seems poised to be a leading contender.
(Editing by Josh Horwitz)