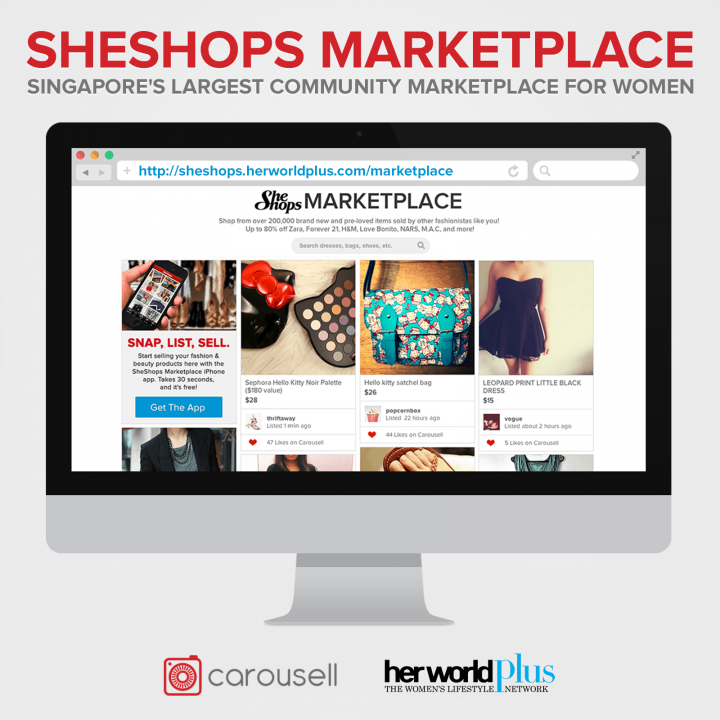 Given that 70 percent of users of mobile commerce startup Carousell are female and fall within the 16 to 34-year-old range, the team saw a great fit and partnership with local media giant Singapore Press Holding (SPH) Magazines. They teamed up to launch SheShops Marketplace, which brings over 200,000 fashion and beauty sales listings to herworldPLUS as well as select digital editions of SPH magazine readers.
So now, any fashion and beauty listings created with the Carousell app under the For Her and Beauty Products category will automatically appear and be searchable on the SheShops Marketplace. That increases the chance of selling those new or pre-loved items. The integration will be seamless, and does not require sellers to put in additional effort to list the items on the new marketplace.
It's also great news for readers at herworldPLUS and select digital magazine readers because they can purchase ladies and beauty products at 80 percent off the shelf prices from the Carousell community. Niki Bruce, editor of herworldPLUS, says:
I'm really excited about being able to offer herworldPLUS readers yet another reason to spend time on our site. Alongside the latest news and reviews of fashion and beauty brands and products, behind-the-scenes posts on Facebook, Twitter and Instagram from the hottest events in Singapore and our up-to-the-minute info on the best places to shop, eat and enjoy yourself, our readers can now also shop on the spot.
Since the last we spoke with the Singapore-based Carousell team, co-founder Quek Siu Rui tells us that the team has been making constant improvements to the speed and stability of both its iPhone and Android apps.
But the biggest update we're most proud of are our web efforts. We used to only have web pages for products, but quietly released web pages for each seller's user profile [of late]. This is significant because sellers do not need to create a blog and create individual sale blog posts one by one, which can be tedious, anymore. Their Carousell listings will just magically appear on their very own beautiful web profiles. And here are two examples: Poppiespop and WindyMoon.
At present, the top five categories – women's fashion, beauty products, men's fashion, lifestyle gadgets, and design and craft – currently take up 85 percent of its listings on the marketplace. The team is pretty focused on shipping what they deem added value for its sellers – getting a large pool of buyers:
One of the key things we constantly focus on is to get the largest pool of prospective buyers for our sellers. It's part of making selling simple and quicker. This partnership gives the bulk of our users (70 percent are female) a very targeted, and very large, community of women to sell to.
For those who are keen to try out the SheShops marketplace iPhone app, it is is available for download here.
(Editing by Paul Bischoff, Anh-Minh Do, and Steven Millward)