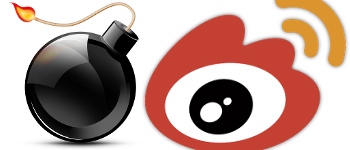 There comes a time when everything peaks – and then it's all downhill from there. According to a tracking tool that's monitoring Sina Weibo, users of the Twitter-like service are a lot less active this year.
This data comes from a third-party tool called WeiboReach. It was used to track Weibo's verified and influential users (an official designation available on Weibo) who have over 10,000 followers. That revealed that the sample surveyed actually started to become less active in October last year:

The above graph shows that the summer of 2012 was Weibo's absolute peak, shortly after Sina (NASDAQ:SINA) revealed that Weibo has 500 million registered users, of whom 46.3 million are daily active users.
Those big spikes in the graph in 2013 are explained by key events. The January spike was caused by the annual panic over securing train or bus tickets to get home for Chinese new year, while that massive, seismogram-like spike in activity in late April was caused by the outpouring of grief after the Ya'an earthquake:

As with all surveys, caution is advised when consuming the numbers. This tracking tool only looked at a portion of Weibo's verified users and doesn't reflect on the activity levels of its regular users like you and me.
China's top e-commerce company, Alibaba, invested $586 million in Sina Weibo to take an 18 percent stake in the social service earlier this year. They'll be hoping that Weibo fatigue doesn't sink in – caused, perhaps, by more people using messaging apps like WeChat – before Weibo has been fully monetized.
(Source: Huxiu)
(Editing by Willis Wee)