It's always a shaky prospect to get the government involved in a startup ecosystem. Accelerator guru from Boulder, Colorado and founder of TechStars Brad Feld says outright, "government shouldn't be in the accelerator business." But this hasn't stopped governments across the world from getting involved. All eyes are on Singapore, of course, which has at least eight incubators participating in its Technology Incubation Scheme. Singapore's money and legal system is the envy of the region.
Vietnam's government is now getting involved. Headed by the Ministry of Science and Technology, the government is now launching the Silicon Valley Project. Although it's rather inappropriately named (creating a Silicon Valley anywhere in Asia is shortsighted), the project will include $400,000 to start. That money will be allocated as shown below to incubation, acceleration, seed funding, and eventual exits. In essence, since the Silicon Valley already has an ecosystem that spans Palo Alto, San Jose, and San Francisco, the Vietnamese government's Silicon Valley project will build everything missing from beginning to end.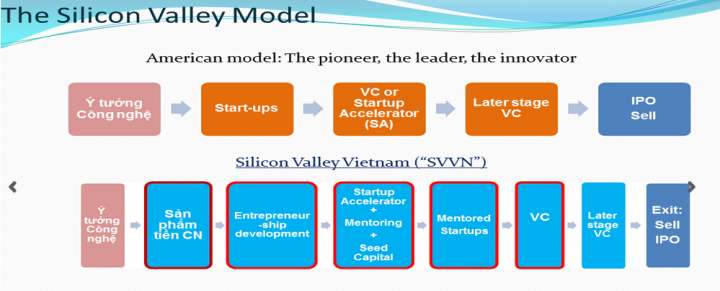 Under the plan, the Silicon Valley Project will start off by building two accelerators, one in Hanoi and one in Ho Chi Minh city, two of Vietnam's biggest cities. The accelerators will run at least two batches of startups in 2014. Beyond acceleration it is not clear yet what the project will do to support startups legally and politically. As I have touched on in the past, Vietnam's legal system is a minefield where many startups are at risk of unknown fines. They're also at risk of being treated by the legal system as an SME instead of a startup, which is unable to incur the same costs an SME would. As the project evolves, the scope of government involvement may become more clear. Tech companies like FPT have gained access to various business licenses (everything from outsourcing to retail to education to hardware). Last year, it had over $1 billion in revenue, dwarfing every other tech-related company in the sector, partly due to its close ties to the government. It is possible that startups accelerating under the Silicon Valley Project will benefit in kind.
(Editing by Paul Bischoff)