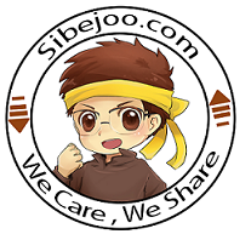 In Indonesia, many startups do their part to help improve the country's education quality. Some of them have created networking platforms that connect teachers with students, like Tutor and the brand new Codemi. Some of them develop mobile apps like Mahoni with its e-textbooks. Some of them create online lessons and curricula, like Zenius.
While those startups are all for-profit companies (e-textbooks apps are free to download, but developed by private mobile app developer Mahoni), one organization has emerged with a similar vision for promoting education via technology, albeit with an exclusively charitable intent.
Founded by Heri Susanto in 2011, the not-for-profit Sibejoo, is quite similar to Zenius, as both provide video content and learning exercises for students. But while Zenius requires users to purchase premium membership in order to access content, all content on Sibejoo is available for free, as part of the company's commitment to creating a free learning place for Indonesian students.
Sibejoo (which means 'the lucky one' in Javanese) currently has more than 1,000 videos, all which are made by the startup's team. The startup also provides its videos on YouTube, where over 300,000 users have accessed its videos. The subjects provided on Sibejoo are those tested on Indonesia's national examinations, such as math, biology and chemistry.
Service first, money second
As a non-profit, Sibejoo is funded primarily through member donations, as well as out of the founders' own pockets. The team admits that the biggest challenge for Sibejoo is raising funds, since it has no investors, partnerships, or patrons at the moment. Sibejoo does sell its products in the form of books and DVDs, however. Even though cash is tight, some of proceeds generated from the product sales are donated to social activities such as soft-skill training for students in the city of Bandung.
The team says that Sibejoo has no head-to-head competitor, as it correctly considers itself a service for society rather than a revenue-generating venture. It's closest companion would be Khan Academy, but Sibejoo differentiates itself by publishing videos in Bahasa (which Khan Academy currently does not support) and tailoring its curriculum specifically for students in the Indonesian education system.
Over the next two months, Sibejoo intends to make 4,000 more videos. It also plans to create live lessons, as well as live practice rooms and discussion rooms. Sibejoo's commitment shows us how tech can inspire people to give more to their country, whether in the form of commerce or charity.
(Editing by Josh Horwitz and Paul Bischoff)