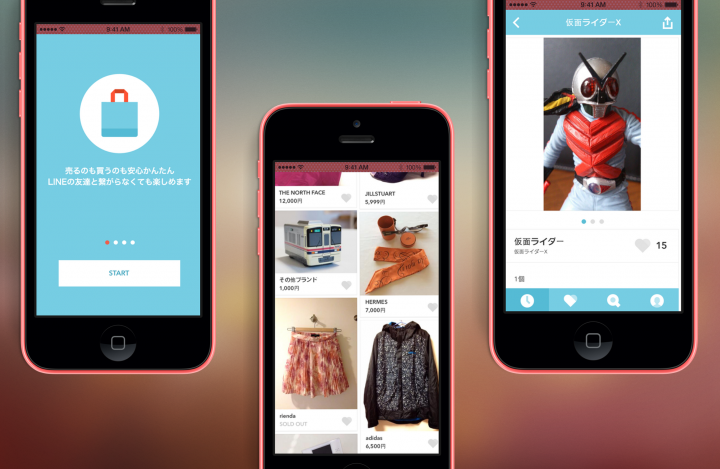 The team behind Japan's popular messaging app Line has brought its consumer-to-consumer e-commerce app Line Mall to iOS, over two months after it first appeared on Android.
The move onto the iPhone could bring big business for the new app, as Apple products dominate the smartphone market in Japan. Following the Cupertino firm's long awaited deal with carrier NTT Docomo, iPhone shipments to Japan surged last autumn. For the month of October 2013 the iPhone occupied over 70 percent of smartphone shipments to the country, according to Kantar.
(Also read: Line looks at mobile commerce for future growth)
While Line Mall is only available in the Japanese iTunes store, we jumped over Apple's cyberfence to take the app for a test drive. Our Japanese is pretty poor, but we can feel our way around Line Mall well enough to confirm that it's pretty fly. As we expected, the marketplace borrows from the Pinterest-esque 'social curation' school of e-commerce, letting users browse through broad categories, favorite items they like, and connect with sellers through the Line messaging app. Of course, there are tons of like-minded apps on the market globally, so Line is likely betting that its status as Japan's messaging app of choice will help boost Line Mall's traction.
Line published a blog post today (which we're reading using Google Translate) adding that the company would waive the 10 percent commission fee it imposed on transactions for new sellers on Line Mall, and that commissions charged on all previous transactions would be refunded.
(Also read: Line messaging app racks up $338 million in revenue in 2013)
2014 looks to be the year that Line pushes further into e-commerce as a source for new revenues. Last week the company announced it would roll out customized APIs for business accounts that use is flagship messaging app for marketing.
(Source: Line Blog Japan)
(Editing by Steven Millward)