With ecommerce sales in APAC set to reach US$525.2 billion this year, surpassing the US, more and more merchants and entrepreneurs from the region will be looking for ways to earn income by selling goods online. As a result, companies from all over the world have come up with tool sets designed to help vendors set up virtual shops. The three-man team behind Shopline is but one firm hoping to get Asia's shopkeepers onto mobile webstores, and it just earned admittance into California-based accelerator 500 Startup's latest batch.
Shopline lets vendors design a storefront webpage, upload images of goods, receive orders, and manage payment transactions. In short, it's quite similar to Shopify, the Ottowa-based startup that's raised more than US$100 million in funding to date. Raymond Yip, co-founder of Shopline, doesn't shy away from name-checking his company's high-profile analog. "We're basically trying to be the Shopify of Asia," he says right at the start of his elevator pitch.
That's all well and good, but why can't Shopify be the Shopify of Asia?
Well, for one thing, not every T-shirt vendor in Taiwan reads TechCrunch every day. Popular as Shopify is, Yip believes that there's still opportunity to be the first mover for streamlined ecommerce tools in Asia. In the eyes of the Shopline team, earning that place entails building a product that's even more simple than Shopify, in an effort to educate a customer base that's not as ecommerce-savvy as the average Shopify user.
"If you think about Shopify, it's super powerful and super awesome," says Yip. "It's almost too much for a merchant to handle if it's their first time to go online. For us, we're kind of not throwing everything and the kitchen sink into the system. We just want just the essentials."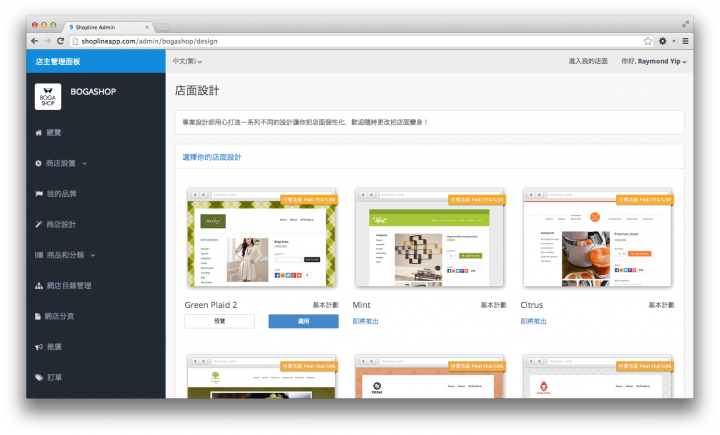 Comparing Shopline's features and pricing scheme with Shopify illustrates how the Hong Kong team is aiming for the bare bones. Features spread across Shopify's three pricing tiers include analytics, discount code engines, two different tiers of analytics ("professional report" and "advanced report builder"), and most importantly, a number of apps and plugins that vendors can use to customize their store management. Shopline tries to keep it simple by offering only a customized domain name, unlimited listings, and a few other perks to customers who pay NT$599 a month (about US$20). Vendors who opt for the free version can still set up shops on Facebook, mobile, and the web, they just have limited product listings and can't snag that shiny domain name.
Building a shop is just one side of Shopline's mission. The team is currently developing a consumer-facing iOS app available in Hong Kong and Taiwan, through which shoppers can browse multiple Shopline storefronts.
Quick at the starting line
Shopline's hypothesis that a fast-moving startup can conquer Asian markets quicker than Shopify (or Europe's Tictail, or China's Taobao, or Taiwan's PCHome for that matter) thus far shows signs of holding weight. 500 Startups managing partner Rui Ma tells Tech in Asia that the company is "fast and lean, even by Silicon Valley standards" and the numbers don't lie. Just four months after its official launch in February, over 4,000 merchants in Taiwan and Hong Kong have created online stores using Shopline.
As for the "lean" side of "fast and lean," only two other teammates work alongside Yip to help manage the thousands of merchants that rely on Shopline for business. Tony Wong, who met Yip at a Startup Weekend event in Hong Kong last year, manages all things code for Shopline, while Fiona Lau, who used to work for Goldman Sachs, handles customer service. Yip divides his time between fundraising and design.
Despite how the three of them are each first-time founders, the team's skeleton structure makes it easy to test and execute quickly. It also helps the team add a personal touch to its customer outreach efforts, which in turn builds trust.
"Taiwan is very active on Facebook, so we've just been marketing on Facebook, and it's worked out quite well for us," says Yip. "I think what our merchants like about Fiona is that she can actually answer their questions, take their feedback, and implement changes. In the middle of the night, Fiona will be on WeChat or WhatsApp, talking to our customers directly."
Even with strong growth at the starting line, Shopline faces a bevy of well-funded competitors. In addition to Shopify, Texas-based Volusion and Bigcommerce, along with LA-based Magento (which eBay acquired) have each racked up a sizeable customer base within the English-speaking world. In greater China, Hong Kong's Bindo has recently launched mobile stores for its partner merchants, but that company's core remains point-of-sale services for brick-and-mortar stores. Taiwan's MeepShop also provides a similar service.
Editing by Steven Millward, thumbnail image via Flickr user refractedmoments