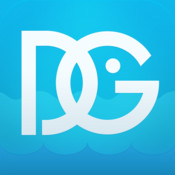 Shanda's Daguan news app aims to give readers a new meaning to, and experience of, reading. It is basically a mobile newsreader, where it provides a wide range of news and stories on topics such as lifestyle, fashion, technology, food, travel, etc. The Flipboard clone mainly provides the same services as Flipboard itself – except for one, which is connecting fellow readers in the community.
The Daguan app has a bookmarking feature that collates the user's "liked" articles in a reading corner, where the user can keep a collection of it and also making it easier for the user to re-visit the articles. Users can also follow other users to check out what they read. In this way users are able to connect with other users, and build and strengthen the entire reading community.
I feel that this particular feature of the app does make it more convenient for the readers to communicate and connect, something that I have not seen on Flipboard yet. If you are a frequent reader and if you are interested to connect with other reading fanatics, you might want to download this app, which is available on iOS.