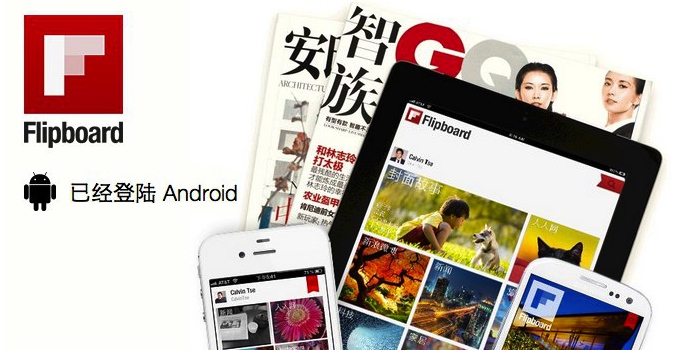 Here's another milestone for Flipboard in China, with the official launch today of Flipboard for Android 'China Edition.' It comes in partnership with the startup Android app stores Wandoujia and AppChina, which have been selected as the official distributors of the Chinese localized version of Flipboard for Android. The new app comes with lots of Chinese news and entertainment content, and supports sharing and syncing to two big social networks here: Sina Weibo and Renren.
This Chinese version of Flipboard can be downloaded right now from Wandoujia.com on this special page; and it's here on AppChina as well. Like all of Flipboard's moves in the country, this launch is being overseen by the U.S. company's product manager for China, Alvin Tse. This new version will be on the Google Play store too.
Plus, to mark this event, the indie app store has bestowed upon Flipboard the "Wandoujia design award" in recognition of the sexy, slidey UI that has made the app a global hit. A Wandoujia representative, speaking to TiA over the weekend, said the startup team is expecting an extra "tens of thousands of app downloads a day" via this special promotion alone – aside from all the regular downloads that it'll get on Wandoujia. The site's co-founder, Wang Junyu, added:
Wandoujia and Flipboard both strive for simplicity and elegance. We hope the partnership will promote the value of design among Android apps in China.
Amen to that. As an Android user – on the newest 4.0 – I still have occasion to facepalm when I see a Chinese (or overseas) app that looks like it was coded with v1.5 in mind.
This local launch comes less than a week after Flipboard first hit the Android platform. Before this, its iPhone app came to China in March this year, following in the wake of the iPad 'China Edition' that came into life last December.
The deal is a coup for the Wandoujia, which is one of many third-party Android app stores operating in China from web companies both big and small. It capitalises on the fact that a great many Android users here prefer to avoid Google Play and instead use such independent stores, or just download the '.apk' files from around the Chinese web as and when needed. Wandoujia also has an iTunes-like syncing app for Windows and Mac, giving Chinese Android users the missing sync that Google has never provided.
As for AppChina, it's backed by the Innovation Works incubator, and wrapped up some major series A funding earlier this year.
Here's a couple of promo shots of the Flipboard for Android 'China Edition' in action: