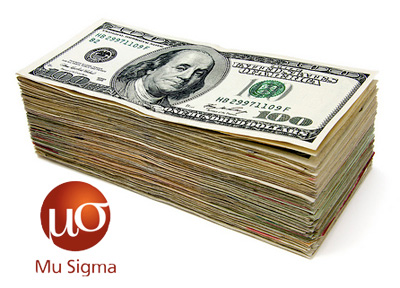 Head-quartered in Chicago with its main delivery center in Bangalore, India, Mu Sigma yesterday announced that it has raised Series C financing of $25 million from Sequoia Capital, taking the total funding to $42 million, according to VentureWire.
What Mu Sigma does is impressive. It provides companies with decision sciences and analytics services, helping them to institutionalize data-driven decision making. In brief, it turns data into actionable steps for companies. All this is made possible with over 1,200 highly educated experienced analysts.
Dhiraj Rajaram, Founder & CEO of Mu Sigma commented:
"Companies today have vast amounts of data that they have collected over the last few decades. To understand all this data, Decision Sciences is going to play a much bigger role in the coming years. We at Mu Sigma are very excited to be a part of this revolution and we believe that we are not just building a company, but building an industry. Through our work with many market leading Fortune 500 companies such as Microsoft and Dell, we've enabled them to chart, implement and execute through a roadmap in decision sciences and analytics."
Rajaram founded Mu Sigma on his own, and had an opportunity to exit a couple of years ago when offered $200 million for the company. But on the advice of his wife, he refused. Instead, Rajaram would like the company to be thought of like Intel. "Every company needs a little Mu Sigma inside," he said.