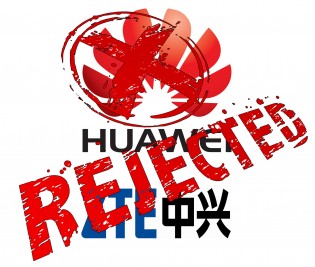 It's no secret that India and China aren't the best of friends. The two countries still have unresolved territorial disputes, and are also engaged in an ongoing struggle for regional influence and control. So it's no surprise that India hasn't been excited about the idea of Chinese telecoms like Huawei and ZTE, both of which have close ties to the Chinese government, getting too deep into the Indian telecommunications market. And those two companies faced another big step backwards in their Indian aspirations late last week when India's Department of Telecommunications (DoT) rejected their applications to be included on a list of domestic telecom companies.
Inclusion on the list would have made it easier for Huawei and ZTE's Indian subsidiaries to do business in the country, especially on public sector projects. Both countries cited substantial manufacturing and investment in India, but were rejected amidst claims of security concerns. The real reason for the rejection may go deeper: the list was prepared by an Indian telecommunications lobbying group that neither Huawei or ZTE is a part of before it was approved by the Indian DoT. An internal memo from the DoT attained by the Economic Times raised the possibility that the companies might be included on some future list, though, saying of ZTE: "we may not include them now."
Whatever the true reason for Huawei and ZTE's rejection, India is clearly concerned about Chinese espionage via telecommunications networks. The country has also expressed concerns about Chinese telecommunications networks building infrastructure in Indian neighbor countries like Nepal and the Maldives, fearing that this equipment may be used to monitor communications coming out of India. Chinese companies, of course, claim that these suspicions are completely unwarranted, but at least in the short run, that isn't likely to matter. As I've said before, brand China is poison (especially when it comes to telecommunications), and Chinese companies are going to continue having a very hard time convincing foreign governments that everything they're doing is on the level.
(Sources: Sina Tech, Times of India, http://tech.sina.com.cn/t/2013-01-28/14338022829.shtml again)