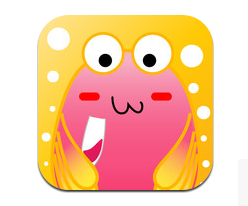 Some of you may recall Japanese startup Sakebii from our Startup Arena competition back in February [1]. We received word from its founder Ryo Umezawa, who tells us that their iOS app has just launched this afternoon.
The service connects first-degree drinking buddies, and your Sakebii network is actually a closed one that is limited to 30 people. They don't aspire to be the next Twitter or Facebook, but rather, when it comes to sharing your drinking plans, it ensures that your drinking plans are shared (push-notified) with only first-degree friends that you trust.
I downloaded the app just now, but it's probably a little early in the day to test it out properly [2]. But you can sign up by authorizing with your Facebook or Twitter IDs, or register with your email.
Ryo tells us that since Startup Asia last month, they have overhauled Sakebii's design, removing some functions in order to simplify things. Over the past month, their startup has been primarily focused solely on the product, rather than promotion.
As Benjamin Joffe mentioned after Sakebii's pitch, it's hard to say whether this startup is solving a problem, or creating one! One thing is for sure, it does look fun! If you'd like to check it out, you can download it now from the Japanese app store. An Android version of Sakebii will be coming soon as well.