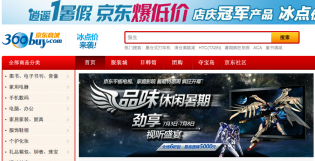 There has been a lot of speculation about 360Buy's plans for a US IPO. In fact, word has it the company even filed its application with the SEC on June 18th, but then suspended the application a few days later. The SEC website doesn't have any filings for 360Buy, so I'm not sure whether or not the company really ever filed, but now the rumors are that after a shareholder meeting, 360Buy's investors are united against the idea of an IPO and instead plan to push for a D-round of fundraising.
Of course, 360Buy representatives paint a slightly different picture. When questioned by a reporter from Yicai, 360Buy reps said that the company never planned to IPO before 2013 and that the IPO rumors were "definitely spread by one of our competitors."
Attacks from competitors are nothing new in the cutthroat world of Chinese e-commerce, but 360Buy does face a significant problem: how to convert growing sales numbers into actual profit. The company has stopped sharing official performance numbers with the press, which some interpret as a sign that things aren't going as well as the company might like them to be. If the company ever was actually planning an IPO, that would certainly be as good a reason as any to stop it and instead seek private funding, especially since filing with the SEC means making all of the company's financial data very, very public.
[Yicai via Sina Tech]