Coupon clipping is not dying off in the digital age. Indeed, as seen in India, coupons remain a huge attraction to e-commerce store users. That means there are plenty of Indian sites offering discount codes and deals. Unsurprisingly, German startup powerhouse Rocket Internet is in on the action as well. CupoNation, which runs in 11 countries, is Rocket's attempt at encouraging India's e-shoppers by giving out coupons.
Shubhendu Parmar, the business development manager at CupoNation India, reckons that 86 percent of India's netizens make use of coupons, with many sharing them with friends via social media. In this competitive market for affiliate e-commerce purchases, CupoNation aims to be the market leader in the country, Shubhendu says, by the end of the year.
CupoNation now has discounts for over 500 Indian e-tailers, including top sites like Flipkart, Myntra, Amazon, Goibibo, and FirstCry. Shubhendu says the site has seen visitor numbers rise by over 200 percent in the last three months.
A crowded marketplace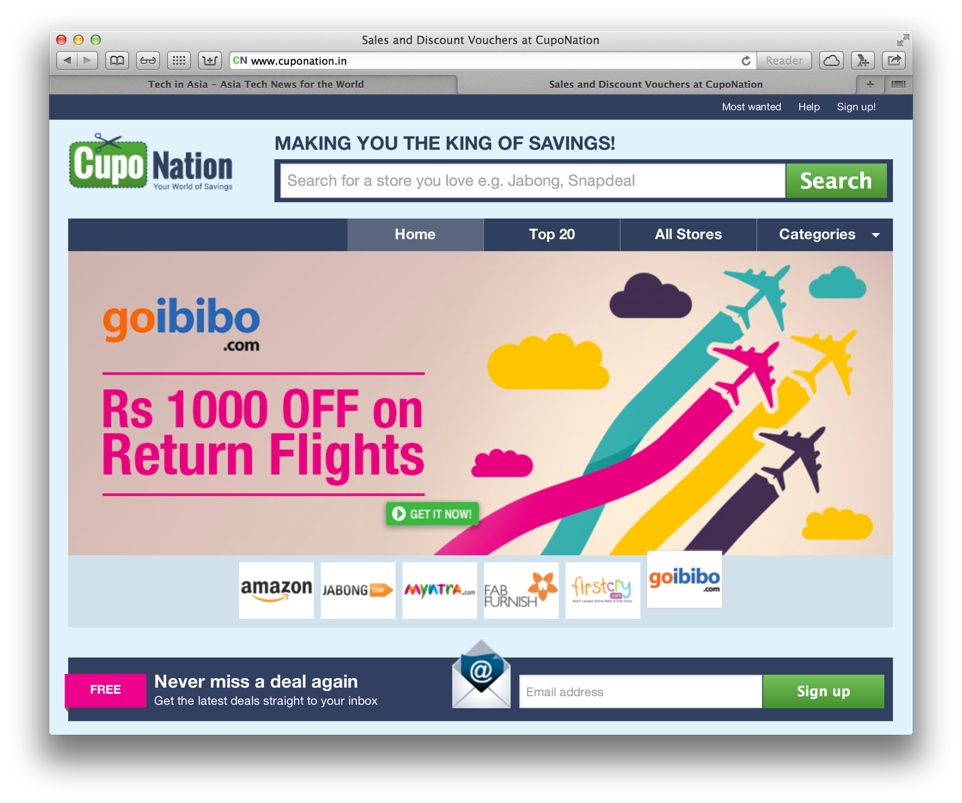 This Rocket Internet venture is up against possibly the greatest amount of direct competition that any of its Indian sites face, since Rocket tends to build up startups for under-served sectors or undeveloped markets. But CupoNation is up against dozens of strong challengers, such as CashKaro (which recently got $750,000 in funding) and PriceDekho's Coupons (an extension of its popular product search engine). Plus there are Groupon-style daily deals sites out there to contend with as well.
Despite all that, Shubhendu believes that the startup site, backed up by Rocket's clout, has the financial and technical resources to grow rapidly in India. But, as India's e-commerce sector grows and matures and more of the nation's population comes online, are these coupon sites sustainable? Won't Indian e-stores wage their own price wars – as we see often in China – or perhaps venture into social commerce rather than affiliate with third-party sites for discounts? Shubhendu responds:
Even when the saturation point for [Indian] e-commerce sites arrives, coupon websites will only continue to grow. We can observe that from the already developed markets such as Germany or the US. Although the e-commerce sphere is very much matured in these countries, coupon websites such as Meingutscheincode, Gutscheinpony or RetailMeNot have only grown and still continue to expand at a growing rate. Thus, e-commerce maturity would only point to a growing trend and a larger market share for coupon websites.
Rocket roots
CupoNation also makes use of its Rocket parentage to work closely with cousin sites like Jabong (for mid-range clothing and shoes), FabFurnish (home decor items), and a few others in the Rocket Internet portfolio. Shubhendu notes, "We offer exclusive deals for these retailers and often launch campaigns to create brand awareness and increase traffic."
The CupoNation team has done its homework, and from a recent survey of Indian web users found that 70 percent of people shop online more than three times a month, and they're mainly between 20 and 35 years of age. Plus, the research revealed that seven out of 10 Indian e-shoppers are women. And I'm guessing that 99.9 percent of people around the world like to get something at a discount.