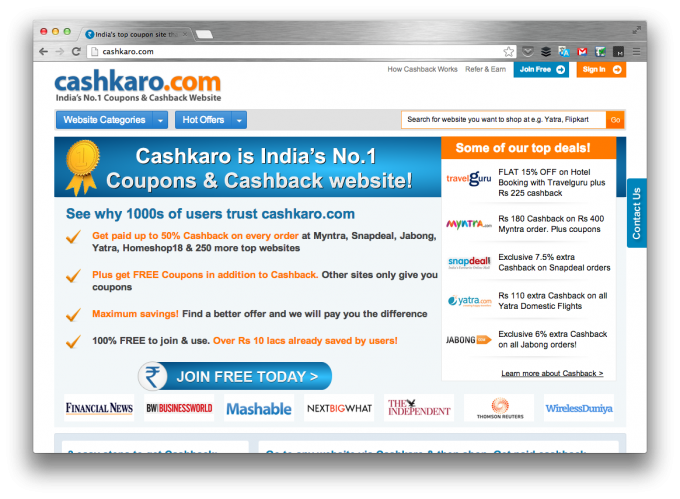 India's Cashkaro has secured a first investment deal worth $750,000 from London-based angel investors. Just last month, when I reviewed the site and interviewed the founders, I explained that the cashback and discount site was in the final stage of talks with some investors. Swati Bhargava, Cashkaro CEO and co-founder, tells us:
We have raised about $750,000. The investors are angel investors based in London, they are investing as individuals not on behalf of their companies. They work at various companies like Paypal, Gumtree. We met one of them at London Business School last year when we pitched at their E100 event, which is LBS's angel investing arm.
The first round of funding will be entirely utilized for Cashkaro's business operations and growth in India that includes team expansion and marketing. She adds:
I think Cashkaro is one of the first cashback sites in India to get external funding. So this gives us a significant advantage to build on. We are very excited about building out Cashkaro and the growth opportunity in India.
Time to quit your day job
Swati quit her Goldman Sachs job along with husband Rohan to launch a the cashback and voucher website Pouring Pounds in the UK back in October, 2012. Cashkaro was born from this, and aims at consumers in India. It launched its beta version in November 2012 and after tying up with several retailers and brands, and the portal was finally launched in April.
Currently, the site has tied up with more than 350 top brick-and-mortar and e-store brands like Snapdeal, Myntra, Flipkart, and Dominos Pizza. The Gurgaon-headquartered startup has over 40,000 registered users and has attracted more than 115,000 Facebook fans to date.
Co-founder Rohan Bhargava explains the incentive for e-stores and major retailers to give such coupons:
We have partnered with almost all popular websites in India. Cashkaro is a great way for them to get sales as they only pay us commission when we drive a transaction. So the return on investment is high and we do great marketing for our brands.
According to Swati, the site is witnessing a conversion rate of around 12 to 15 percent at present, which is equal to the number of users doing transactions; however she expects this rate to go up to around 30 to 35 percent in a long run.
"Cashback sites are very popular in the UK, US, and Europe and I am confident the same will happen in India as well. Cashkaro gives both coupons and cashback to its members, so often our savings are double those offered by coupon-only sites. So I am sure the discerning Indian buyer will see the extra value Cashkaro adds," concludes Rohan.
Sites focused on useful discounts have been big in India for a while. Perhaps the biggest is FreeCharge which, somewhat differently to Cashkaro, gives discount coupons when you use it to pay for mobile or TV subscription top-ups.
(Editing by Steven Millward and Enricko Lukman)