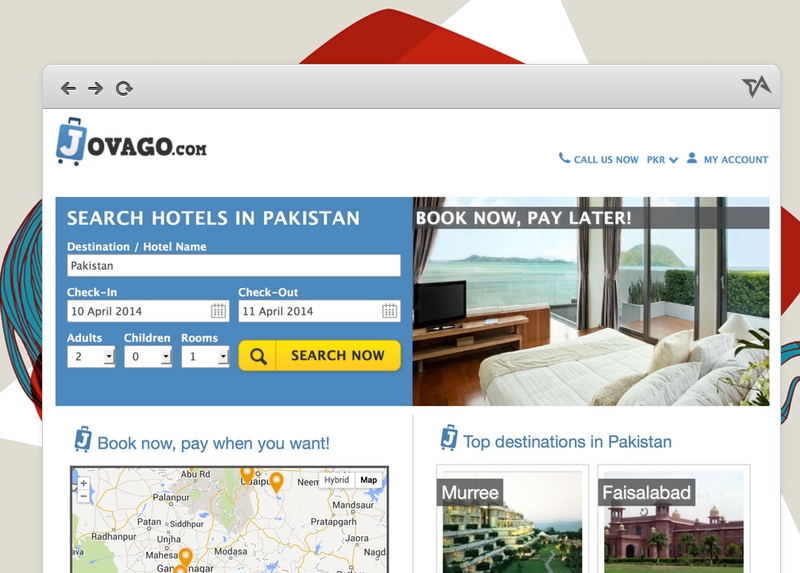 Rocket Internet's hotel booking site Jovago came online last August, initially serving only two African nations. Now the site has gone live in a third country that's on the other side of the world – Pakistan. Zoha Sohail, Jovago Pakistan's business development manager, tells Tech in Asia that the service has 50 hotels on board right now in Karachi and Lahore, but hotels in Islamabad are being prepped to be added in as well.
Sohail adds that the site is focusing on local travel in Pakistan now, but in the future it will add in hotels in other countries for Pakistani travelers who want to venture overseas. She adds:
The fact that we are the first multinational hotel booking portal to be launching in Pakistan confirms a promising future and that has helped us add hotels easily. Everyday we tap more hotel leads across Karachi, Lahore, and Islamabad and keep adding them to our portal.
(See: How Rocket Internet is getting into Pakistan on the ground floor)
Jovago is in talks to add in flight ticketing, but nothing has been decided yet.
Rocket Internet now has seven startups running in Pakistan: clothing e-store Daraz.pk, the Amazon-style marketplace Kaymu.pk, property portal Zamudi.pk, auto marketplace Carmudi, localized versions of EasyTaxi and Foodpanda, and now Jovago as well. (Updated: corrected Kaymu/Azmalo confusion and added in Carmudi).
Pakistan's online travel business is still in its very early days. Despite the huge financial firepower that Rocket Internet has, there's still space for indie startups in this area. Two rivals to Jovago that do package tours are Chutti.pk and Go Ghoom – the latter of which emerged from Pakistan's Plan 9 incubator. More will surely emerge in the next year or two.
(See: EasyTaxi awaiting green light to drive into 3rd city in Pakistan)