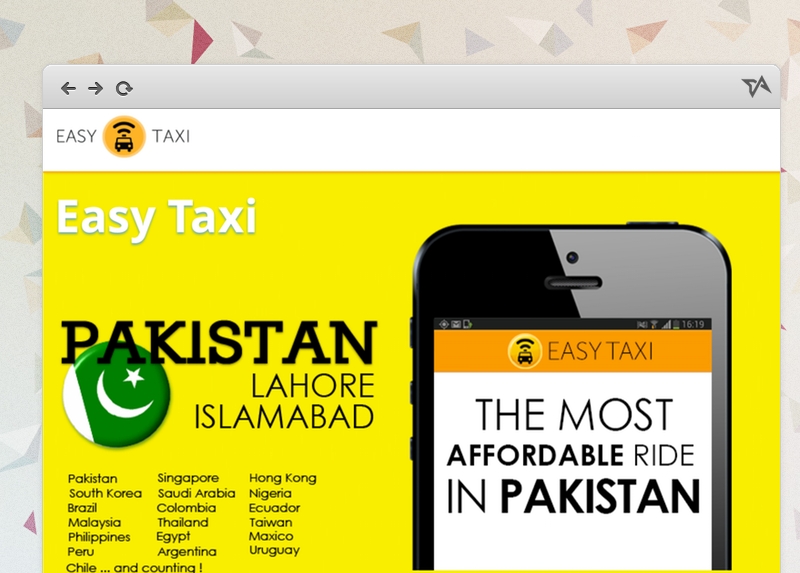 Rocket Internet's taxi-hailing app EasyTaxi first ventured into Pakistan in July 2013, rolling out very quietly via nothing but a Facebook page catering to in-the-know geeks in Lahore. Now, half a year later, there's a proper EasyTaxi Pakistan homepage, and the company has persuaded some cabbies to use the service in both Lahore and, more recently, Islamabad.
Ahmed Khan, the CEO of EasyTaxi Pakistan, tells Tech in Asia that the next destination for the app is Karachi. That'll happen next month.
100 rides a day
EasyTaxi Pakistan has signed up 30 taxi drivers in Lahore, Ahmed explains, who are picking up about 100 rides per day via the EasyTaxi service. As with other taxi booking apps across the region, those drivers go about their normal work picking up customers on the street when they don't have any calls via the taxi-booking app. Growth seems to be slow for EasyTaxi Pakistan as the company was aiming at having 100 Lahore cabbies within three months of its launch in that city, but the target has been missed by a wide margin.
As for Islamabad, the startup has persuaded about 10 to 15 of the capital's cabbies to use it.
Rocket Internet pushing Pakistan even harder in 2014
Last year, German startup dynamo Rocket Internet had five of its services operating in Pakistan: clothing e-store Daraz.pk, the Amazon/eBay marketplace style Azmalo.pk, property portal Zamudi.pk, and also localized versions of EasyTaxi and Foodpanda.
2014 will see more appear as Rocket Internet – boosted by its bazillions in VC cash – pushes its sites into other developing nations. Online marketplace Kaymu has already launched in Pakistan, and soon it'll be followed by local roll-outs of travel booking site Joyvago and bus ticketing service Clickbus. Currently, Clickbus is focused solely on Brazil, while Joyvago is oriented towards Africa.
(Editing by Paul Bischoff)