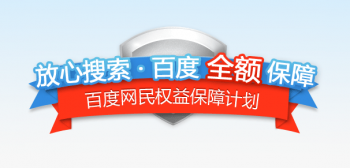 Consumers have been complaining for years about links in Baidu's search results — both organic and paid — that lead to fraudulent sites and rip people off. But now, if a Baidu search leads you to a website that rips you off, you can get compensated no matter whether the site was listed as a paid advertisement link or an organic search result and no matter how much you lost.
The program, which Baidu calls its Netizen Protection Plan, was first launched back in May in cooperation with China's Consumers Association and the China National Association of People's Mediation under the Ministry of Justice. At the time, however, compensation was capped at a maximum of 5000 RMB ($819) and users could only be compensated if they had been tricked by a paid search result. Now, Baidu is eliminating that 5,000 limit and expanding the program to include organic search links as well, meaning that whatever you clicked and however much money you lost, Baidu will compensate you for it.
There are, of course, some provisos. The first is that you have to have been logged in when you clicked on the link; presumably so that Baidu can confirm in its own server logs that you actually did search and click on the result that you claim. You also need to have proof that the fraudulent transaction actually occurred, which might include things like screenshots of the payment invoice or bank records. As long as you've got that stuff, though, you're gravy, and you can be compensated regardless of whether you lost $5 or $50,000.
Sums as high as the latter aren't at all common, though. Baidu says that it 3,628 complaints over the last three months and removed 1,572 problematic sites from its search index. A company spokesperson told Tech in Asia:
Fairly typical of these cases is the case of one Ms. Han from Tianjin, who bought a couple of movie tickets through a [group buying] site that had been on Baidu. The site turned out to be invalid, and she filed a complaint. The next day we gave her the value of the two movie tickets, which was like RMB 65 [$10].
Of course, the requirement that users be logged in when they search, while entirely reasonable, probably discounts a significant proportion of Baidu searchers users from being eligible for compensation in the first place. When asked, a Baidu spokesman declined to provide any statistics on the number of users who search without being logged in, but it seems safe to assume that it is substantial.
In addition to probably building some good will with consumers, the program will make it harder for Baidu's critics to convincingly accuse the company of profiting from fraud by accepting paid search listings from companies that ultimately prove to be scams.