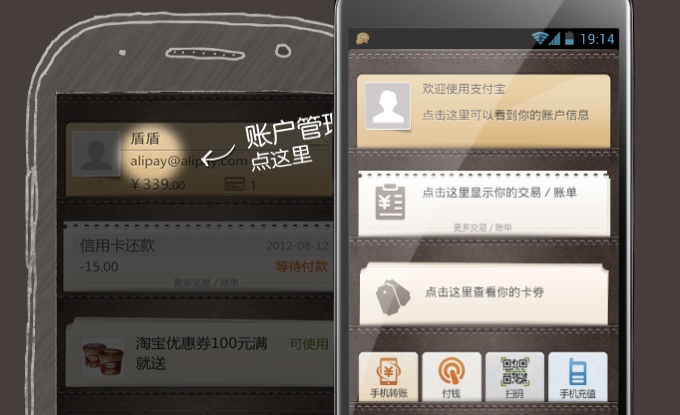 There are lots of apps and services out there that want to be your mobile, digital wallet. In China, the biggest contender is Alipay, the e-payments service that grew out of China's biggest e-commerce site. The Android version of the Alipay app has been revamped and bumped up to v5.0 today, bringing with it a new UI and a philosophy that's a bit closer to Apple's Passbook.
Now the Alipay app is not just about mobile payments, but it also stores your gift cards and discount coupons in a skeuomorphorgasmic new wallet (pictured). Plus, Alibaba's official blog points out, there's a new payment method option in the form of 'sound wave payment' which "utilizes white noise generated by one smartphone to carry digital information to another Alipay Wallet-equipped smartphone in the vicinity." It's a pity that another standard like NFC couldn't be used, but the lack of NFC support in the iPhone probably ruled that out as an option.
In addition to that, the app now has a new icon to emphasize that this is now aimed at being a full mobile wallet, not just a regular payments app, and the name has grown from just "Alipay" to "Alipay Wallet" in both English and Chinese. The iPhone version will get the same update soon.
The Alipay app can be used when shopping online, as well as at supporting brick-and-mortar stores that let you make cashless payments with a combo of a QR code or barcodes and a few taps of the app.
Alipay, a product of Alibaba Group, has 700 million users in total, and 350 million of those use the e-payments platform while mobile.