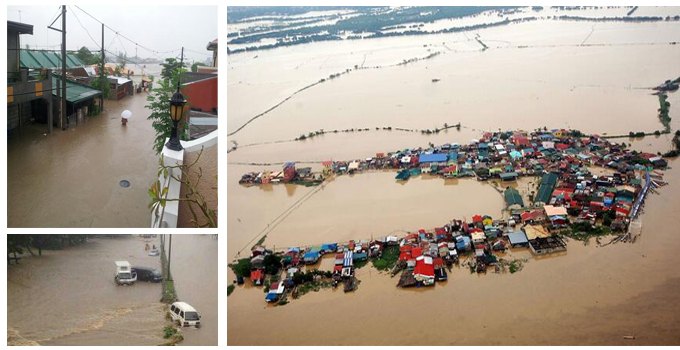 Once again it's typhoon season in the Philippines. When heavy rains and storms happen in the country, flooding is the next thing people worry about, and a number of individuals usually need help with being evacuated and then given food supplies. Last year, social media became a great tool in giving help to affected citizens. It's happening again today.
Two days ago, tropical storm Maring began to pass over the Philippines. It fuelled the southwest monsoon and caused heavy rains and flooding all over the Philippines. Floods are now entering people's homes, reaching up to hip-level in some areas. Addressing this, just like last year, #rescuePH, #floodPH, and#reliefPH, are again active hashtags on Twitter. These are being used by Philippine netizens to inform other if they know people who needs rescue or relief goods, or to signal for help if someone needs rescue or emergency food supplies themselves.
A new crowdsourced site
Last year, RescuePH team only used Google Docs to collate rescue information. This time, it has already managed to create a crowdsourcing website, where citizens can input relevant information. It has a "click here if someone you know needs rescuing" button. The site also shows a list of people who need help, and an interactive map to show the locations of citizens who need rescuing from the flood-waters. Now, the RescuePH team requests that netizens not only tweet their reports, but also enter the details directly into the website to help expedite recovery operations.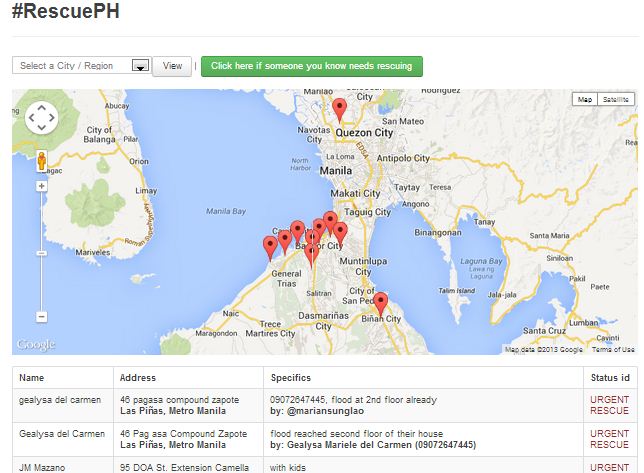 According to @mlq3, information that's reported on Twitter and on the website are being responded to by the Disaster Risk Reduction and Management Council (DRRMC) within the localities, and it' is being coordinated with the national DRRMC. The Presidential Communications Development and Strategic Planning Office also helps in coordinating information from the RescuePH website.
After help, #SafeNow
Meanwhile, @juanxi encourages those who are capable of doing rescue operations, or those who have ties with organizations or individuals who can do so, to access the map through on the site. She requests that rescued individuals use the #SafeNow hashtag once they've been assisted so the team can "scratch areas off the list and move on to others" who need rescuing. Here's the full information on juanxi's Storify: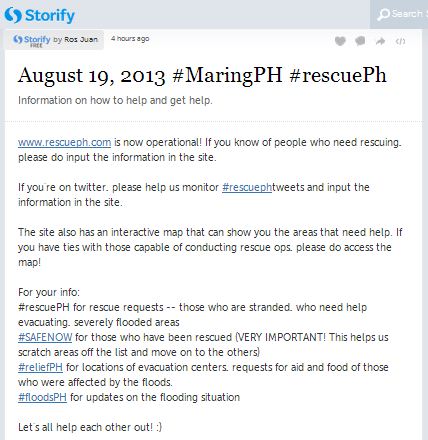 Apart from the RescuePH crowdsourcing site, there's also the ReliefPH website, which gives information on locations that need help with relief goods and gives the locations of ad-hoc evacuation centers. Plus, major companies such as Smart, Globe, Meralco, and GMA News, to name a few, are also using Twitter to disseminate useful floods-related information.
(Editing by: Steven Millward)