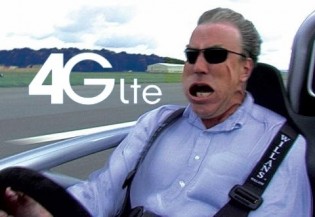 ABI Research has published a new report today that says Asia-Pacific's 4G subscriber market is growing – but is not exactly huge. At Q4 2012, the researchers state that the region had 34.6 million on various LTE networks, up 60.9 percent on the previous quarter. By the end of the year, there'll be an anticipated 72.1 million people on 4G in APAC.
Clearly that's a small fraction of the total 3.45 billion mobile subscriptions across the whole Asia-Pacific area. Furthermore, I suspect that most of the current 34.6 million figure is in South Korea and Japan. Indeed, Korea's biggest telco, SK Telecom, had seven million on its LTE service at the end of 2012 and aims to push that to 13 million by the end of 2013. Japan's NTT Docomo recently said that it has surpassed 10 million on its fastest mobile data network. Just those two companies have half of the that 34.6 million stat.
Across the rest of the continent, there are few full-scale LTE networks rolled out. China is conducting limited trials now, and has been throughout last year in readiness for an anticipated 2014 launch nationwide; India has limited coverage in some cities; Indonesia is still grappling with the move from 2G to 3G. Until those three countries fully roll out 4G nationwide, it's likely that Asia's numbers will look unimpressive.
Admitedly, ABI Research is a lot more optimistic on these numbers than am I at the moment. Worldwide, the researchers expect there to be 785 million LTE subscribers by 2017, with North America and Asia Pacific contributing the biggest numbers.
Last April, the same team said that 63 percent of mobile telcos in Asia had rolled out 4G LTE services, or are now conducting trials or have firm plans.