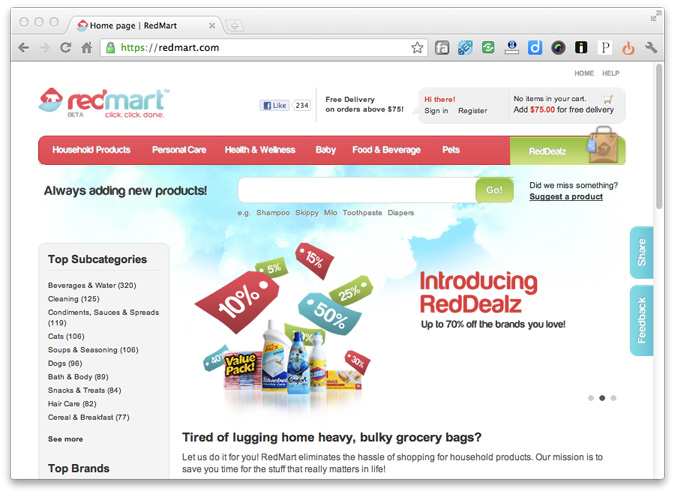 RedMart.com is an e-commerce site built for busy folks to buy your everyday goods (like milk, rice, coffee, etc) online. You select the goods that you want, pay online, and RedMart will deliver to your doorstep.
That sounds very much like Household.sg which we covered previously. But Roger Egan argued that that is not the case. RedMart doesn't work with supermarkets and shops. Instead, it works with manufacturers directly, bypassing the retailers. It's a big hurray for consumers as we can get better prices for our groceries. Plus RedMart provides free delivery on orders above S$75, which is not hard to hit for families who prefer to purchase groceries in bulk. Roger added:
Think Ebay. . . customized for Consumer Packaged Goods (CPG) manufacturers. In addition to ecommerce, our platform also includes order fulfillment, unparalleled data analytics, and pioneering marketing capabilities.
Oh yes, data. That's another key point which RedMart is offering to manufacturers. But why would they want data? Roger explained:
Large retailers are abusing their power over them [the manufacturers] – margin pressure, store brands (private labels) are taking up an increasing amount of shelf space, and the retailers don't share their data with manufacturers.
That makes sense, and this business model has attracted investment from Skype co-founder and angel investor, Toivo Annus. Annus previously invested in other Singapore-based startups Anafore and ADZ. The investment sum wasn't disclosed to us though.
The RedMart team looks strong with a wide variety of experience. Prior to this venture, Roger co-founded Integro, an insurance brokerage company which raised $320 million of capital in 2005. His co-founder, Vikram Rupani, had started a company which was the first to set up polyester and alkyd resin manufacturing plant in Bahrain. Both Roger and Vikram have experience working in the banking industry too. On this most recent venture starting RedMart in the Singapore market, Roger commented:
Singapore is a small market, but not that small for the goods we sell (USD 4.2 billion sales annually). We chose it mainly because:

1) There is no one doing e-commerce for household essentials well,

2) The HQs for the CPG manufacturers are here for Southeast Asia (and in some cases Asia), and

3) The fact that the island is small and densely populated makes logistics much simpler.
His first point is a pretty harsh critique of Redmart competitors. Household.sg, watch out!