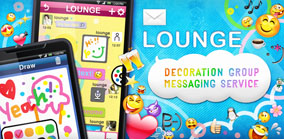 Tokyo-based startup Quan Inc. has invented a smartphone messaging app that allows you to communicate with others by exchanging decorated texts, pictograms, and illustrations. It's called Lounge. The iPhone app was introduced last month, and its Android app just released earlier this week.
Other Japan-made picture decoration apps (such as Decopic and Snapeee) have been booming, especially in Asia. So Quan also expects this app to spread around the region. I conducted a brief interview with the startup's CEO Kazuhiro Mizuno to find out more.
---
Could you tell us a little about your background first?
Prior to launching my startup Quan last August, I was working with a mobile/network game developer called Tekunodo, where I was in charge of administrating the development of a [successful] number-juggling game called Touch the Numbers. It has been ever downloaded more than three million times worldwide. I quit the developer [position] last July to start my own startup.
---
Why did you develop the LOUNGE app?
We can receive e-mails having decorated texts with the iPhone's native e-mail app, however sending it with decorated texts is unavailable, except using mailer apps by cellphone carriers or the third parties. We'd like to give users back luxury of communications by texts. That's one of the reason why we developed the app.
---
How will you monetize it?
We have no significant business plan at the moment, but we can see several possible ways. I think we'll be able to create a variety of artistic or cute background decoration sets designed by professionals, which we can make downloadable online and sell them to the users. Second, when a user adds a company as his/her contact on the app, the company gives him/her a discount or a compilimentary coupon for their merchandise or services. In this case, Quan will receive a commision fee from the company every time the coupon is issued. Third, with the accumulation of messages being exchanged among the users, the startup will know a lot about what users is the most interested in. This may work for doing marketing business or helping ad agencies find new ways to satisfy their client needs.
---

What kind of technology does this app use?
The app uses a real-time connectionless http protocol and allows users to communicate texts and exchange illustration without pressing a 'send' button. As you proceed typing texts or drawing illustration on your handset, that is simultaneously transmitted to the app's server, and [the person on the] other end can share them without time lag. Both ends can share what they want to communicate to each other with no delay. For better user experience, we are forced to set a high-spec environment to accept real-time data transmission from the users at the same time, which costs a lot.
---
How do you want this app to spread?
We just want to make it start with circle activities at universities across the country. Many guys from universities have helped us develop the app, and that's a lot of fun for us. As for marketing the app, I really would like to work with women because they always bring us great ideas that will never come up to in a man's mind.
---
Naver Japan's messaging app LINE recorded more than 10 million downloads last month, which shows that chat apps for smartphone is one of the biggest areas in Asia's tech community. Quan's Lounge has both chat app functions of and text decorating — so it has potential to be a huge hit.
I heard Quan's Mizuno will attend the Startup Asia Singapore event that will happen on February 2nd and 3rd, that will be a good opportunity to catch up with him and see his insights on the smartphone app industry.