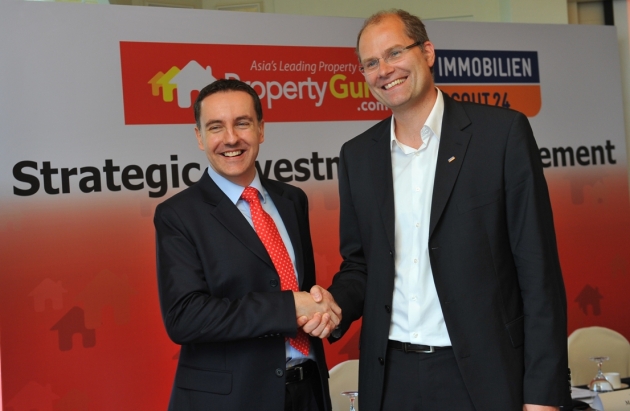 Singapore portals seem to be reaping the fruits of labour of late after having it rough out for the last couple of years. Just a few weeks back, we saw HungryGoWhere getting acquired by SingTel to launch a brand new site. Now a press release from PropertyGuru.com.sg,is announcing the company has received a S$60 million (US$47 million) investment from Europe's property portal group, ImmobilienScout24. The latter company is also a subsidiary of Deutsche Telekom.
With this new investment, it aims to achieve two things: One, to expand PropertyGuru's operations within the region. And two, to further enhance PropertyGuru's search and advertisement services. The investment would entail a closer working relationship between both parties, where there will be knowledge resource and skills transfer from the Europe property portal to PropertyGuru.
The Asia property portal group currently has presence in nine countries, and boasts impressive numbers. It has been used by 8.2 million buyers, having more than 65 million property pages, and generating 200,000 sales enquiries every month. According to Google AdPlanner, things are looking sunny bright even in Singapore. The company's two websites, PropertyGuru and Commercial Guru, account for 85% of total page views from property seekers. It has also doubled in revenue and traffic growth in the last year.
On receiving the investment, Steve Melhuish, CEO and co-founder of PropertyGuru Group said:
"We see strong economic growth, rising middle classes, urbanisation, developing property markets, as well as an online explosion, taking place throughout Asia. PropertyGuru sits in middle of all of this. Our revenues and traffic doubled over the previous year, and we increased our leadership position in our markets. We welcome ImmobilienScout24 as a strategic investor, which will accelerate our growth and supported additional investment in developing innovative services for our clients."
This investment is also part of ImmobilienScout24's internationalization strategy. Marc Stilke, CEO of ImmobilienScout24 emphasizes:
"This shareholding is part of our internationalization strategy to invest early on in emerging countries with strong growth and to establish the use of the Internet as a central and most effective instrument for seeking and marketing real estate. We have built up Germany's leading real estate marketplace and we are pleased to contribute this know-how to our cooperation with PropertyGuru."
Moving forward, this investment will see PropertyGuru Group tap into a combined population of 340 million citizens and S$900 million annual real estate advertising market in Asia. Congratulations to the team at PropertyGuru!