We know officially that China is getting 4G this year and that the first network on offer will be China Mobile's TD-LTE network. Now, the company's Guangdong subsidiary has posted the prices for at least a few of its official plans on its website, which can be seen in the screengrab below (with our translation added):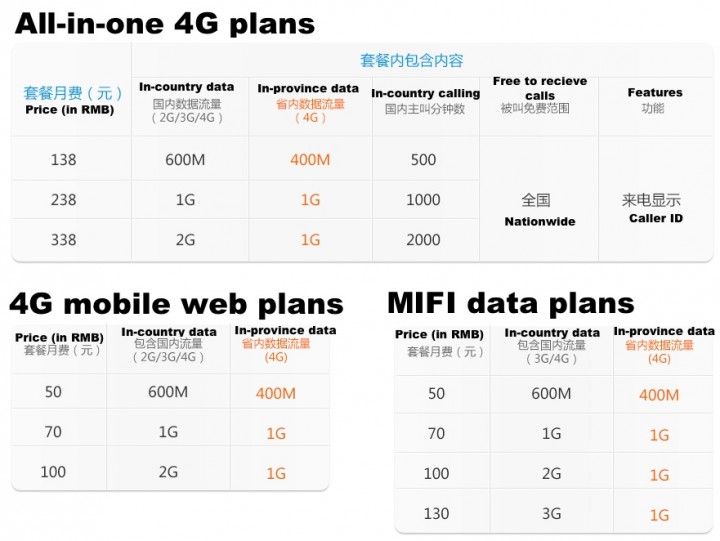 It appears the telecom will be offering three all-inclusive plans. Users can get 600 Mb of in-country data (2G, 3G and 4G), 400 Mb of in-province LTE data, and 500 minutes of calling for 138 RMB ($22) per month. Power users can also select plans with more calling and data available, with the beefiest offering 2 GB of in-country data, 1 GB of in-province data, and 2000 minutes of calling for 338 RMB ($55) per month. As you can see, there are also other plans available for those who just want web/data services without any calling minutes.
Although these prices are just for Guangdong Mobile and might vary a bit from region to region, they likely represent at least the basic range of prices for 4G services that'll be available in China. Of course, when you're getting lightning fast video streaming, it's easy to eat through a few GB of data in a pretty big hurry, but even so these plans look like a pretty decent deal and I expect China Mobile will have some pretty impressive subscriber numbers to show off once China's first 4G network is finally allowed to go live.
(via Guangdong Mobile, h/t to Sina Tech)