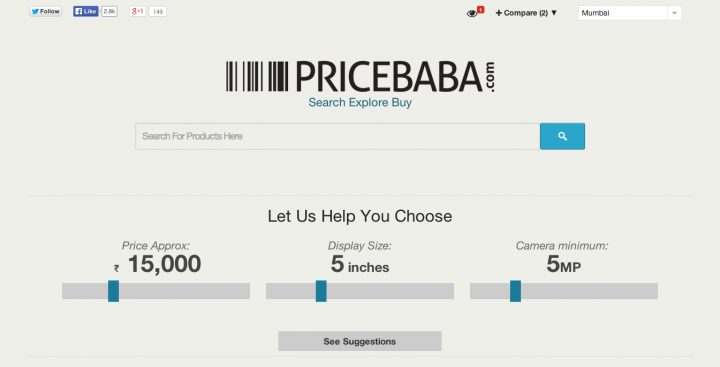 PriceBaba, the Mumbai-based price comparison search engine, has received post-seed funding from 500 Wallah, the $5 million India-specific fund from the ever-popular global accelerator program 500 Startups. The exact sum of the investment hasn't been disclosed, though PriceBaba founder Annkur Agarwal states it will be used to invest in operations and technology.
PriceBaba differs from the many other product search sites in India by focusing on listing gadgets for sale at brick-and-mortar stores, not e-commerce sites.
The PriceBaba team had an eventful 2013 both professionally and personally. Fresh off receiving its first round of seed funding in 2012, it was handpicked to join 500 Startups in Silicon Valley in April 2013. Agarwal says that attending the program helped PriceBaba believe in itself as a venture that could play alongside the best startups worldwide.
"The greatest takeaway was certainly realizing the fact that we are as good as anyone else solving a tough problem across the globe," Agarwal tells Tech In Asia. "That has boosted our confidence so much more."
Not long after the stint in California, however, Agarwal got hit with a hernia that he picked up while taking martial arts classes. Despite his karate-master strength, the resulting surgery kept him bedridden for six weeks in the autumn. But Agarwal says that his team made up for lost time quickly.
"We generally push 40 to 50 updates to the site every month, and since I came back from a health break in November, a lot of planning and execution happened in November and December. In December alone we pushed over 120 changes to the platform," says Agarwal.
Meanwhile, the service spread to covering retails outlets in six cities across India, and has been accumulating roughly 500,000 900,000 users each month according to Agarwal.
(Editing by Steven Millward)