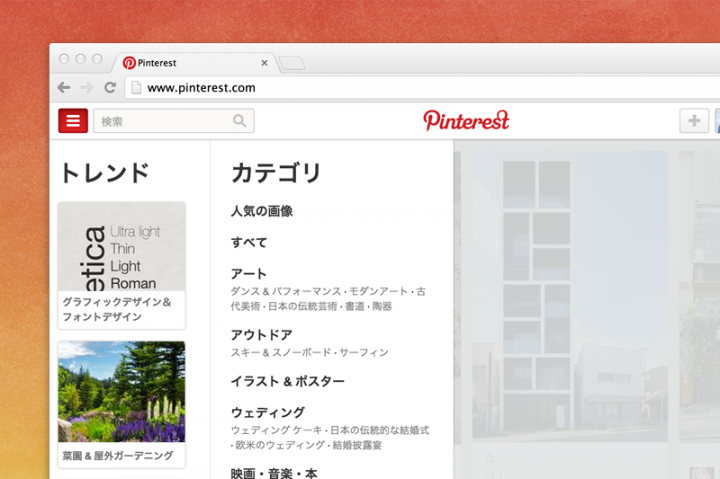 US-based Pinterest will launch a Japanese version of its pinboard-style photo-sharing site, according to the company blog. The move has been expected since May, when Japanese e-commerce giant Rakuten (JSD:4755) announced it would lead a $100 million funding round for Pinterest, along with previous backers.
The Japanese version includes exclusive localized features like a hair styles sub-category, paper crafts, and more.
Rakuten's strategy likely involves driving traffic from Pinterest to Rakuten's e-commerce site, as brands can also pin things they want to share. One study found that Pinterest users are more likely to spend money than the average Facebook user.
According to Alexa, Pinterest is the 239th most popular site in Japan based on a combination of average daily visitors and pageviews. Less than one percent of Pinterest users come from Japan. In contrast, it's most popular in Canada and the US, where it ranks 12th and 13th. The US makes up almost half of all Pinterset users. France, where Pinterest launched its French version in June, it ranks 42nd. Pinterest is also available in Portuguese and Spanish.
(See also: Tumblr gradually extends its reach in Asia as it adds Korean language support)
Pinterest launched in March 2010, but only introduced monetization schemes in September 2013. In a company blog post, Pinterest CEO Ben Silbermann stated that the site would begin experimenting with sponsored pins, though no revenue figures have been revealed to date. Despite how its only just starting to bring in cash, the company is valued at about $3.8 billion.
The Japanese version doesn't seem to be available quite yet, but you can stay updated via its Facebook page and blog.
(Source: Pinterest blog via TheNextWeb)
(Editing by Josh Horwitz)