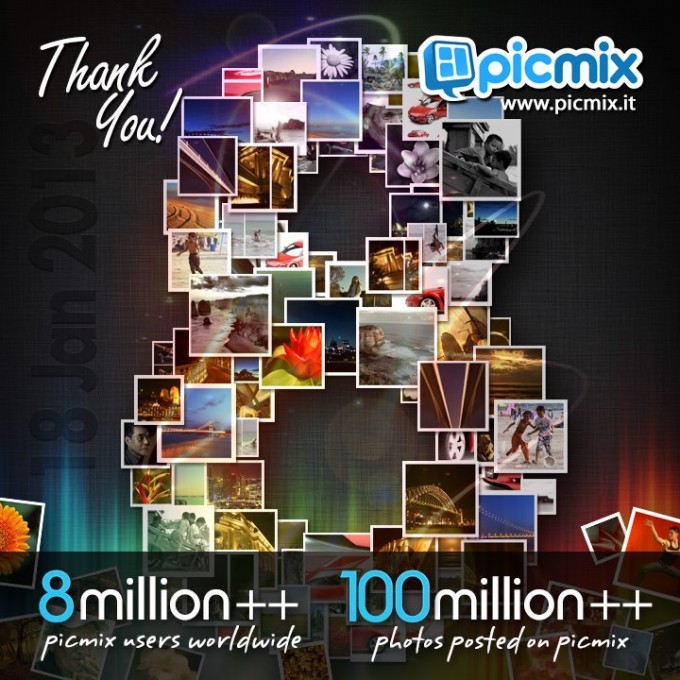 Indonesian-made photo app PicMix impressively passed eight million users last month in just nine months since the app's inception, with more than 108 million photos posted on the app so far. All this was achieved without using any marketing budget, claimed founder Calvin Kizana. He said that the app, which originally started as a pet project back in March 2012, went viral purely based on word of mouth recommendations.
PicMix was initially just for the old Blackberry OS, but now also supports Blackberry 10 and Android. It's currently sitting at the fifth spot among the top free apps on the Blackberry Store, beaten only by WhatsApp, Blackberry Messenger, Facebook, and Twitter. The photography app has grown rapidly with around 35,000 new users and more than 450,000 new photos every single day. Calvin shared that 80 percent of its user-base come from the Blackberry platform, with the rest are Android users.
How did PicMix achieve this success? Calvin said that the lack of notable similar apps on the Blackberry platform might play a part in it, and the other reason is execution. The team strives to deliver the best photo filter experience to its users, letting them use Instagram-like filters, and offers further photo customization options like putting text or custom frames on pictures. The app's latter feature, for example, lets users create their own frame in a simple way. He explained to me that there are hardcore users for that particular feature who make some particularly creative designs.
PicMix's social networking feature helps as well. It allows users to set up their gallery page that others can follow. Numerous Indonesian celebrities, like actresses Alice Norin and Natasha Wilona, and the pop group CherryBelle, have become PicMix users and have their accounts verified by PicMix.
Snappy monetization
Unlike the confusion that happened recently with Instagram's new terms of service and alarm over monetizing people's photos, Calvin has been able to earn money from his photography app. He explained that he monetizes from in-app purchases and photo contests (pictured below, left) which are held in conjunction with a various brands. PicMix offers premium frames (pictured below, right), including branded ones, that can be bought using Mix Credits which can be purchased via credit card, PayPal, and local carrier billing across 73 countries.
Besides those two monetizing avenues, Calvin said that they are exploring other revenue opportunities too, like selling the popular photo spot for brands, but he is treading lightly so that the app still looks user-centric rather than just serving brands.
Shooting forward
There will be three new features rolled out in the near future: groups, chatting, and a marketplace. The last feature is an interesting one as, as it would cross into e-commerce. Calvin observed that many Indonesians are using his social service to sell their products, either by putting the product picture on PicMix, or use PicMix's features to modify the product pictures first and then put them on other marketplace websites such as Kaskus. Calvin believes that this is a market opportunity that they must dig into.
The team plans to release the app for Java-based feature phones and the iPhone in the next few months. Calvin is optimistic that his app can also succeed on feature phones because of the lack of strong competition there. As we have often pointed out, the feature phone market is a huge one that shouldn't be ignored – especially in Asia. PicMix will also be ported to Windows Phone and tablets at a later time.
PicMix is invested in by mobile phone distributor and retailer Erajaya. BibbyCam is another promising Indonesian photography app built for Blackberry platform.
You can download PicMix from BlackBerry World and Google Play.