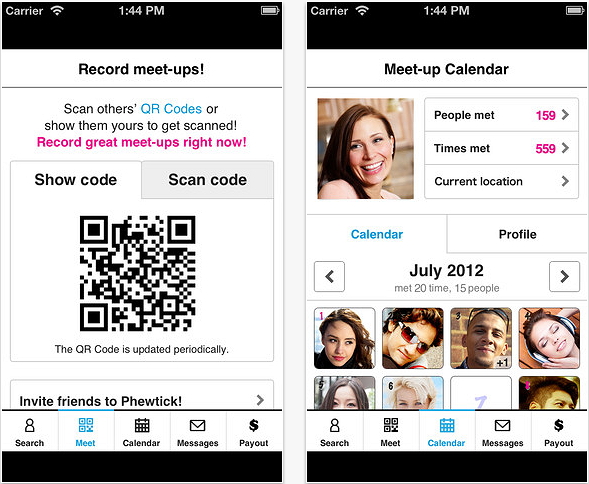 PhewTick, the memorably-named mobile app that pays you to meet strangers, has become all the rage in Asia. Since launching in June 2012, it has already amassed a remarkable 500,000 users from 50 countries.
Skeptics say that the app sounds too good to be true. Users earn cash by scanning each other's QR codes using the PhewTick app on iPhone or Android. They then play a cute mini-game which involves controlling a cat as it tries to capture fish containing a different amounts of points. Every 1,000 points earns the user about SGD1.53, which they can cash out via PayPal after they hit a SGD30 (USD23.50) threshold.
The app is designed to encourage serendipitous encounters between strangers and also people that already know one another. It's possible for someone to 'phewtick' with friends again and again — all that's stopping him from doing it every second is a 12-hour time lapse that is required between scans of the same person.
While a lot of skepticism has grown around the app, it is unlikely to be a scam. PhewTick is created by a Japanese startup and they have received coverage from tech blogs like VentureBeat and TechinAsia. The app itself was released at beLAUNCH, a technology startup conference in South Korea.
Besides receiving a node from tech publications, it is also well-financed. Kaz Naya, CEO and co-founder of PhewTick, told me that it has raised a massive USD10M in seed funding from Japanese investors since 2007, although he wouldn't disclose who they are, except that they're "celebrities".
The idea actually isn't as harebrained as it sounds. Kaz tells me that PhewTick is fundamentally a mobile marketing platform for businesses in addition to a matchmaker between strangers. The cash payout is an effective but expensive gimmick to get people on board. In fact, PhewTick is just an unexpected twist on existing startups like ChurpChurp and GushCloud, both of which pays users to spread the word on social media about a brand. Both companies are still up and running.
So, assuming that PhewTick does what it says and becomes an engaging way to meet new people and earn at the same time, it could have a future.
The trick is to figure out how. Trust and transparency is an important issue, so PhewTick must be seen as reliable in giving payouts. They must state their policies clearly, such that those who resort to exploits cannot blame the startup if they're not paid.
Subsequently, they must create enough interesting content and features to get users to stay on the app. They'll need to create new mini-games and novel ways of fostering user interaction. It's not just about meeting new people, but how new acquaintances can continue staying in touch if they wish. PhewTick will also have to figure out the merchant side of things. They must convince retailers that their platform can generate enough ROI and sales to justify the costs of using it.
It is a novel idea that might just work. The markets that PhewTick are entering — developed Asia, Europe, and the United States — appears to be ripe and ready. In parts of Asia, merchants are already warming up to mobile, location-based marketing with a wide range of such apps (Perx, Squiyl, ChopChop and others) vying for their attention. It remains for PhewTick to establish credibility with merchants, and that will come with a proven ability to engage consumers.
The app has a lot going for it: It managed to capture a sizable audience that marketers crave and want to capitalize on. It is also rather sticky: 40% of the app's total user base are active daily, while another 40% use it at least once a week. Singapore and Malaysia are its top two markets, with 180k and 200k users respectively (apparently we can't resist easy cash).
PhewTick is certainly interesting and differentiated enough for merchants to give it at least one try. In fact, I can't wait to see how PhewTick can be used to draw flash mobs to, say, a bubble tea shop, concert, or a fashion boutique. Given the virality of social media, there's a chance that such marketing campaigns can really swell up and generate a lot of buzz (although it can sometimes get out of control).
The idea of of an app that makes people sociable through gamification holds some appeal to me too. Doing it with cash incentives is certainly unorthodox, but if the side-effect of money is new and deeper bonds between people, then I don't see that there's a problem.
But I do have some reservations about the app.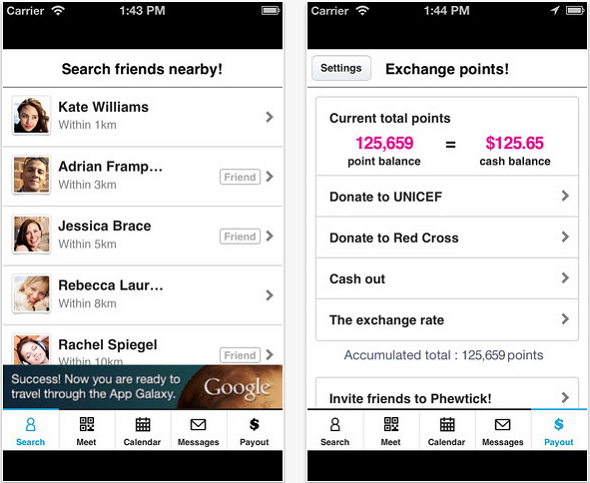 Their business model is a big question mark. PhewTick plans to earn through advertising in the first two years, where users will be incentivized to click the ads using bigger payouts.
I wonder if they can make the math work. While PhewTick can rely on angel funding to sustain itself, it will need to generate a substantial amount of revenue not only to pay thousands of users, but also to foot its own bills, salaries, and expansion costs. On this, Kaz says that they have enough funds and impressions-based advertising revenue to sustain themselves for two years, during with they hope to amass at least 10M users.
In that time, they will jump into location-based marketing, where merchants will be given virtual points to distribute to people who use PhewTick in their shops or restaurants.
What this means is that a restaurant in Singapore, for example, can offer a deal on PhewTick where users can get $1 by visiting that restaurant and reading its QR code during certain hours. Then the restaurant has to pay out the points to users, in exchange for gaining a new customer. The company plans to collect transaction fees from the venues, pegged between 5 to 10%. Kaz describes it as "Google Adwords for local venues based on the location data of PhewTick users."
While the idea sounds good, there's the risk that the app's novelty will wear off. While scanning QR codes from strangers and playing mini-games involving cats and fishes might be fun for a while, it gets repetitive over time.
Soon, enough people will be bored of the concept, and usage levels will fall back to more sane levels. PhewTick will then have to constantly think of new ways to get users back to the platform. While cash is a great motivator, utility is important too. Not only must the app be fun, it should also serve other useful purposes for its target audience, that of allowing users to meet strangers and break the ice.
So, until PhewTick can create a sustainable business and become truly useful as a people connector, it could become just another flash in the pan that will evaporate soon, potentially leaving lots of angry users who can't cash out.
While fame and notoriety spreads rapidly online these days, they could disappear just as quickly.