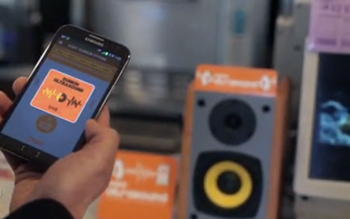 Perples is a Korean mobile technology startup that enables smartphones to display relevant content upon detecting inaudible sound signals. So far, the company provides soundtag SDKs for brands to make use of its technology to engage with customers.
When I spoke to the team at beLaunch conference, the company said that it is beta testing its sound tagging tech with Dunkin' Donuts in Korea. Powered by Perples, Dunkin' Donuts' "Morning Startup" App is able to leverage sound tagging technology to improve its breakfast sales.
Here's how: The app acts like an alarm clock, but once the alarm triggers, users can choose breakfast items they want from Dunkin' Donuts and then the app will start to count down. Users are expected to arrive at a Dunkin Donuts store within three hours. Once at the store, the app will detect Dunkin Donuts' inaudible sound signal to trigger a "mission complete" message and create a coupon that gives them a discount on the items they want.
Perples says that its clients are able to customize messages through its content management system. There's no special hardware involved as long as there's an iPod or any other music player that is able to broadcast the ultrasound within the store. For full case study, you can watch the video below to learn about Perples' beta test with Dunkin Donuts:
Talking about O2O, Perples may have just found a way to drive foot traffic to stores. Even though this may be just one positive case study, it does offer quite some value for both customers and stores to give Perples a try at least.